Our Arugula Burrata Salad with Berries is made with a base of arugula, then layered with fresh summer berries, and topped with soft Italian burrata cheese.
Arugula greens have a slightly peppery, bitter flavor so they pair great with the sweet berries on top. This healthy salad is topped with nuts, fresh herbs, and a simple vinaigrette. Our arugula burrata salad is quick and easy to assemble, no cooking required!
Mozzarella Vs Burrata: What's The Difference?
Mozzarella and burrata are both semi-soft cheeses from Italy. Both types of cheeses are most commonly found made from cow's milk. Mozzarella is a relatively soft cheese but firm enough to hold its shape. It is most commonly served in caprese salad with fresh tomato and basil, or try it in our Peach Tomato Caprese.
Burrata is actually a type of mozzarella, where the outer firmer layer is mozzarella that when opened, reveals a soft and creamy texture inside. The inner portion of the burrata has a smooth, rich, buttery flavor.
Is This Arugula Burrata Salad Healthy?
This arugula salad is packed with antioxidants, fiber, and vitamins and minerals. Arugula is a dark leafy green that is particularly high in vitamin A, vitamin K, and vitamin C. Arugula is very low in fat, calories, and cholesterol. The nutrients found in arugula are particularly important for the blood clotting process, immune health, and bone health. Arugula is part of the cruciferous vegetable family (along with broccoli, cauliflower, etc.) which are known for taming inflammation and for their anti-cancer properties.
The berries in this salad add another tasty source of antioxidants and vitamins. The almonds sprinkled across, help to make this salad more filling by providing a healthy source of fat. And finally, the burrata cheese boosts the protein and calcium content.
Nutrition Tip
Certain vitamins, like vitamin A and vitamin K found in this salad, require a little fat to help them be absorbed into your digestive tract. Arugula by itself doesn't contain sufficient fat for all the vitamins to be absorbed. Pairing nutritious greens with nuts, cheese, or an olive oil dressing is not only a delicious combination, but it supports better nutrient absorption too!
What To Serve With This Arugula Burrata Salad
Our Arugula Burrata Salad is a sweet and savory combination of the berries and the creamy burrata cheese. This Italian-inspired salad would be great served alongside grilled chicken or salmon.
Try this berry burrata salad as a starter before serving one of these dinner recipes:
What You Need To Make Arugula Burrata Salad
Arugula
Burrata
Berries
Almonds
Fresh basil and mint
Olive Oil
Balsamic Vinegar
Honey
Dijon Mustard
Salt and Pepper
How To Prepare Our Arugula Burrata Salad
Begin by making your vinaigrette in a mason jar. Combine all the dressing ingredients together and shake until well mixed. Next, assemble your salad by spreading the arugula out in a large dish. Top evenly with your burrata, berries, almonds, and fresh herbs. Pour the dressing over the salad and enjoy!
We serve this salad with the burrata whole, skin-on and then slice it for each serving of salad. If you prefer, you can take the skin off, and spread the creamy cheese filling across the salad.

Arugula Burrata Salad with Berries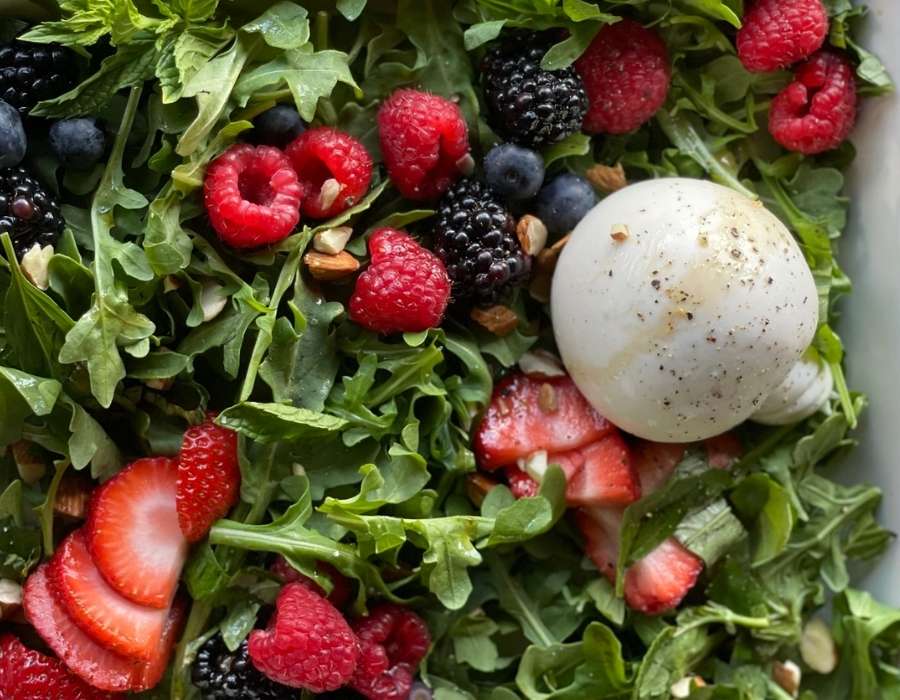 Our Arugula Burrata Salad with Berries is made with a base of arugula, then layered with fresh summer berries, and topped with soft Italian burrata cheese.
Ingredients
Burrata Salad
5

oz

arugula

2

balls of burrata

2-3

cups

Berries

Strawberries, blackberries, raspberries and blueberries

¼

cup

almonds

chopped

Fresh basil and mint leaves

chopped roughly
Balsamic Vinaigrette
½

cup

olive oil

4

T

balsamic vinegar

2

T

honey

2

teaspoons

dijon

Salt and pepper

to taste
Instructions
Make the vinaigrette: In a mason jar or medium bowl combine all the ingredients and shake or whisk together. Salt and pepper to taste.

Assemble your salad: Add arugula to a large platter or bowl. Add the burrata and then your berries.

Sprinkle salad with nuts, basil and mint. Drizzle with dressing.

Enjoy!
Notes
This recipe will make extra dressing to keep on hand for later.
Looking For More Salads With Fresh Fruit?
Try one of these salads that incorporates a little sweet fruit.