Pumpkin Sage Risotto is a seasonal and nourishing dish that will elevate any meal. Impress guests and brighten your table with this cozy pumpkin risotto.
Risotto may seem intimidating but it's actually quite easy and well worth the time. This recipe calls for simple ingredients like garlic, broth, arborio rice, pumpkin puree, and a pinch of nutmeg.
Why Is Risotto Different Than Rice?
Risotto is generally made with arborio rice which is short grain and maintains an al dente texture when it's cooked properly. Typically regular rice is cooked by just simmering rice and water until all the water is absorbed.
What Is Pumpkin Risotto?
Risotto is a creamy rice dish made with broth, spices, and a little cheese. In this warm pumpkin risotto, the rice is flavored with pumpkin puree and sage for a fall twist.
Cooking risotto requires a little more attention than preparing regular rice, but trust me, it's definitely worth it. The finished product is a smooth, creamy pot of rice that is tender but not mushy. The trick with risotto is to serve it as soon as it's finished cooking to enjoy the best texture of the rice.
Is Risotto Healthy?
Yes, this risotto can be a healthy component of your meal. It's all about building a well rounded meal that will be satisfying and nutritious. Oftentimes risotto is a heavier dish, made with a large amount of butter and cheese. In this recipe, we create a smooth sauce with the broth, pumpkin puree and olive oil.
Pumpkin is a good source of vitamin A, vitamin K and potassium. Olive oil is a heart-healthy source of unsaturated in this recipe and adds a richness to the risotto. Garlic and shallots are part of the Allium family which have antibacterial properties and may have a potential role in reducing cancer risk.
I recommend low-sodium chicken and vegetable broth when possible for health benefits and so you can adjust the salt seasoning to your liking. I also suggest pairing the risotto with a good source of protein to give the meal more staying power.
What To Serve With Pumpkin Risotto
This pumpkin risotto is a great side dish for fall dinners and the holidays. While there are some vegetables within the risotto, we suggest adding some leafy greens or other roasted vegetables to round out the meal and to add fiber.
Here are a few delicious veggie side dishes to serve it with:
Try pairing the risotto with a source of high quality protein like Christie's Chicken Marinade or or this lovely grilled salmon and green salad to make it more filling.
What You Need To Make This Pumpkin Risotto
Here's what you need to make this wonderful Fall pumpkin sage risotto:
Olive oil
Shallots
Garlic
Arborio rice
Dry white wine
Nutmeg
Chicken or vegetable stock or broth
Pumpkin puree
Parmigiano Reggiano
Salt and pepper to taste
Sugar
Fresh sage
How To Make Pumpkin Risotto Recipe
Begin by heating the broth in a pot. In a second pot, sauté the garlic, shallots, and rice in olive oil. Add the wine and broth as directed in incremental steps until all the broth is absorbed.
The rice should be tender but still chewy at the end. Stir in the pumpkin puree and parmesan cheese. Next add a little salt, pepper, and sugar to bring out all the depth of flavors. Finish it off with fresh sage as a garnish.

Pumpkin Sage Risotto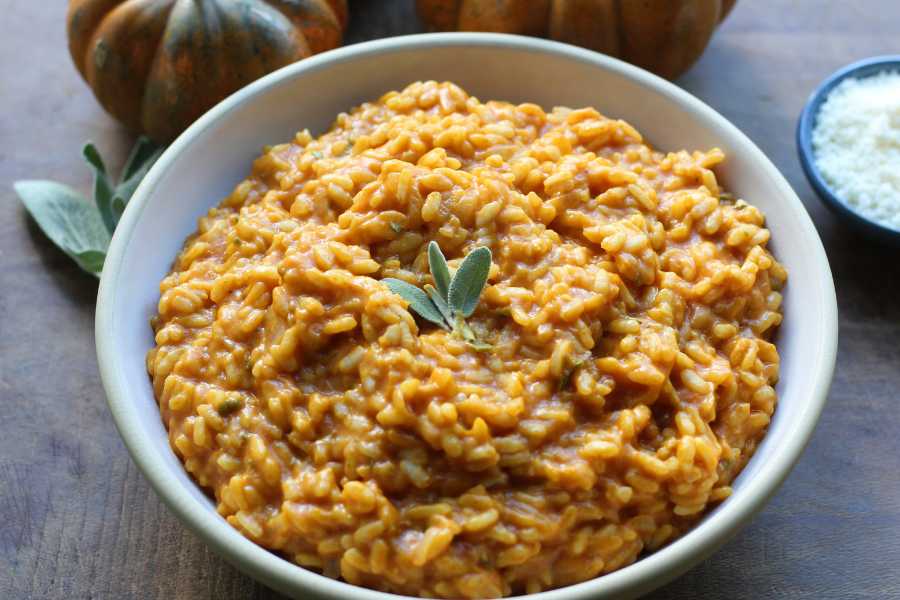 Pumpkin Sage Risotto is a seasonal and nourishing dish that will elevate any meal. Impress guests and brighten your table with this cozy pumpkin risotto.
Ingredients
3

Tablespoons

olive oil

6

shallots

minced

1

Tablespoon

garlic

chopped

2

cups

arborio rice

1

cup

dry white wine

¼

Teaspoon

nutmeg

6

cups

chicken or vegetable stock or broth

15

oz

can of pumpkin puree

½

cup

grated Parmigiano Reggiano

Salt and pepper

to taste

1-2

teaspoons

sugar

2

Tablespoons

fresh sage

chopped coarsely (1 Tablespoon dried sage)
Instructions
In a medium pot, heat the 6 cups of stock or broth to a simmer while preparing the recipe.

In a large saucepan, heat the olive oil over medium-high heat. Add the shallots and garlic and sauté until softened for about 3 minutes.

Add the rice and continue to stir to coat the rice using a wooden spoon.

Add the white wine and continue to stir until it is absorbed by the rice.

Add 1 cup of stock to the pot continuing to stir until most the the stock is absorbed. Repeat this process, adding 1 cup of stock at a time and stirring until the stock is mostly absorbed and all of the stock is used. The rice should be tender but still chewy.

Stir in the pumpkin puree, and parmesan cheese.

Add salt and pepper to taste and 1-2 teaspoons of sugar.

Top with fresh sage and enjoy!
Looking For More Fall-Inspired Recipes?
Here are a few recipes perfect for the cooler Fall weather.