This Easy Mediterranean Grilled Chicken Salad is a colorful and fresh recipe. You'll know this recipe by heart in no time and you will be able to toss it together for a simple weeknight dinner.
We make this recipe with a base of arugula which is a hearty green that will last well in your refrigerator, making it a great meal prep option. Arugula is high in vitamin K, antioxidants, and calcium. To balance the slight bitterness of arugula, we included salty olives, fresh veggies, and tangy lemon in this Mediterranean salad. We also love to garnish this Mediterranean chicken salad with feta, Kalamata olives, parsley and mint for a boost of flavor.
What You Need To Make This Mediterranean Grilled Chicken Salad
Chicken thighs
Arugula
English cucumber
Cherry tomatoes
Red onion
Olive oil
Red wine vinegar
Lemon
Garlic
Oregano
Salt and pepper
Garnish:

Kalamata olive
Crumbled Feta cheese
Fresh Parsley
Mint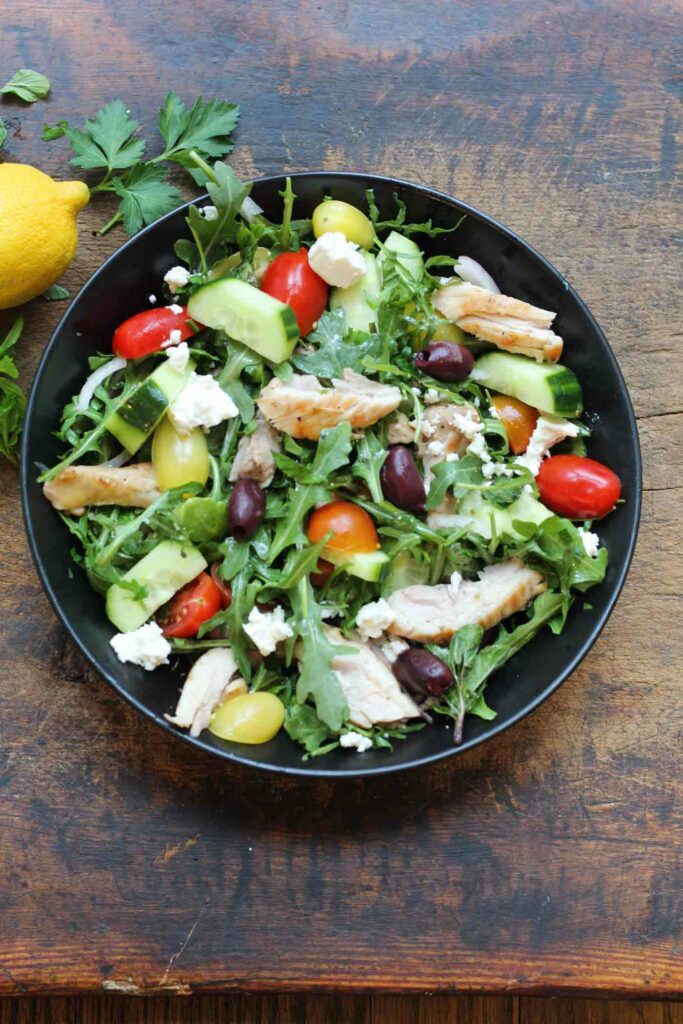 How to Make Mediterranean Chicken Salad Dressing
The dressing is one of our favorites that originally comes from our Shrimp Panzanella Salad, but for this recipe we've added a little fresh lemon juice. The dressing is both the marinade for the chicken thighs, and the dressing for the arugula. This makes preparation so easy!
Prepare the dressing by mixing all the dressing ingredients together in a bowl. Combine half of the dressing with the chicken thighs to marinate, and save the other half for the salad.
How To Make Marinated Chicken Salad
We picked chicken thighs for this recipe because they cook quickly and they add so much rich flavor. Boneless, skinless chicken thighs add great flavor to a recipe while keeping the saturated fat content, usually in the skin, at a minimum. This meal is high in protein which will keep you full and satisfied, and help you avoid unhealthy snacking.
After marinating your chicken in the lemon dressing for at least 30 minutes, preheat your grill at medium-high heat. Grill each chicken thigh for 3-4 minutes on each side. Remove the grilled chicken from the heat and rest. Finally, slide the chicken for the Mediterranean salad. Check out the full recipe below.
Recipe Modifications
Want to make it vegetarian? Skip the chicken and add chickpeas.
Add cooked farro or brown rice to make it even more filling.
Try it with romaine lettuce or kale for variety instead of arugula.

Easy Mediterranean Grilled Chicken Salad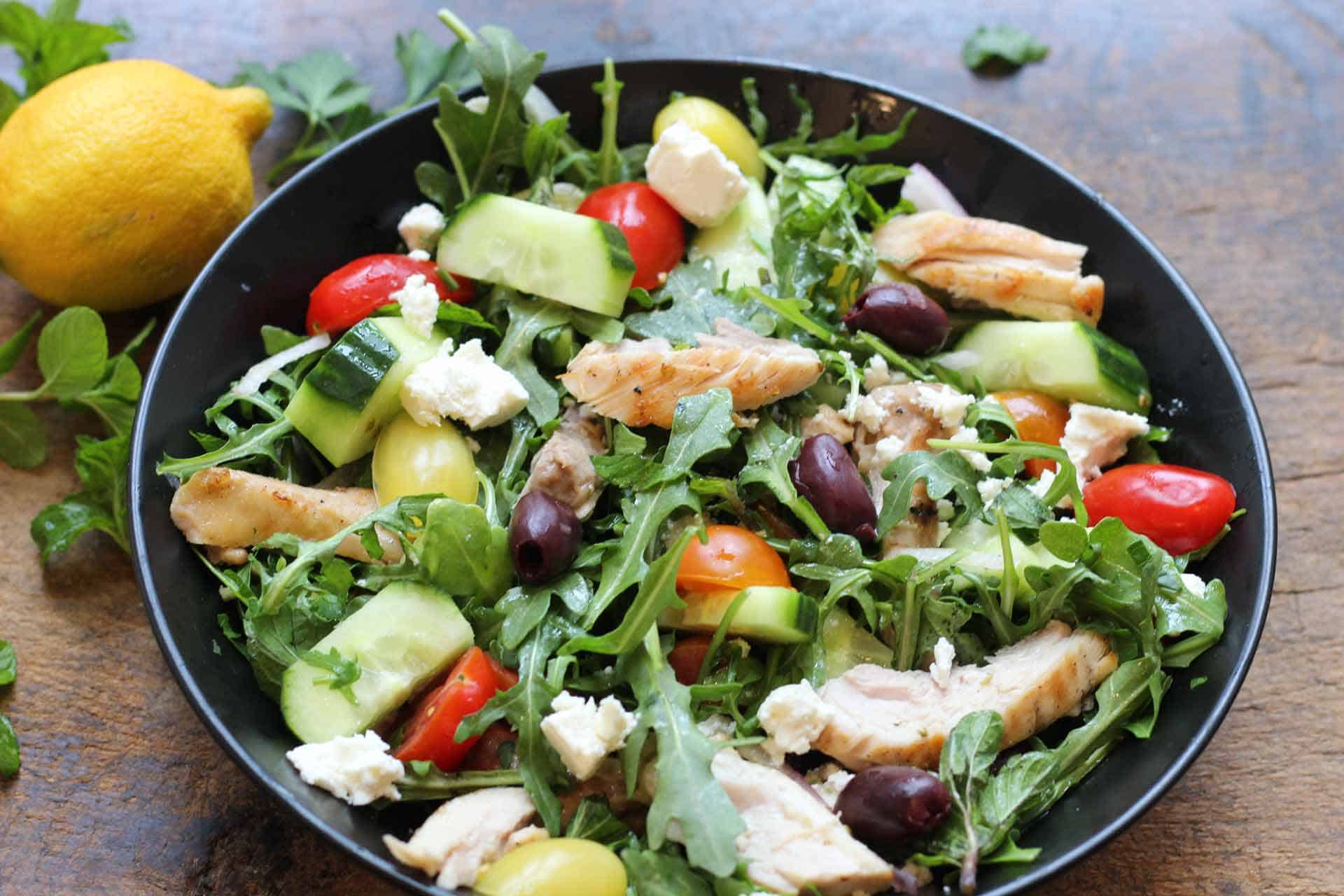 This Easy Mediterranean Grilled Chicken Salad is a hearty and easy recipe. Made with a base of arugula, topped with grilled chicken, fresh vegetables and then garnished with feta, olives, and parsley.
Equipment
Grill

or heavy bottomed skillet

Large Bowl
Ingredients
Dressing
⅓

cup

olive oil

¼

cup

red wine vinegar

juice of ½ lemon

1

clove

garlic

minced

1

teaspoon

oregano

Salt and pepper to taste
Chicken
1

pound

boneless, skinless chicken thighs
Salad
3-4

cups

arugula

1

English cucumber

1

pint

cherry tomatoes

½

red onion

Garnish: Kalamata olive, crumbled feta cheese, fresh parsley, and mint
Instructions
Make the dressing: Whisk together the dressing ingredients in a small bowl. Place chicken in shallow bowl and pour HALF of the dressing on top. Save the rest of the dressing for the salad. Marinate for at least 30 minutes at room temperature or up to 2-3 hours (You can prep overnight as well).

Prep the salad: While the chicken is marinating prepare the salad ingredients.

Cook the chicken: Preheat a grill or grill pan over medium high heat (or use a heavy-bottom skillet on the stove). Remove the chicken from the marinade and cook each thigh for 3-4 minutes on each side until browned. Allow chicken to rest for a couple of minutes and slice.

Assemble the salad: Place salad ingredients in a large bowl, top with chicken, toss with dressing and garnish with olives, feta and parsley and mint if desired. Enjoy!
Looking For More Great Grill Recipes?
Check out a few of our other tasty grilled chicken and shrimp dishes for a healthy dinner.