Chicken is a great source of lean protein while avocado is full of healthy fats This spin on classic salsa is so versatile and the key to this dish is choosing a fruit that is at the peak of its season.
Print
Grilled Chicken with Strawberry Feta Salsa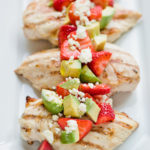 Ingredients
Salsa
2 cups

fresh strawberries, hulled and quartered
1⁄2 cup finely chopped sweet onion
• 2 Tbsp lime juice
• 1⁄4 cup crumbled feta cheese

2 tsp

olive oil

1

avocado, peeled and diced
Chicken
1 Tbsp olive oil
• 2 tsp lime juice
• 4 boneless, skinless chicken breast halves
Instructions
In a medium bowl, combine strawberries, onion, lime juice, feta and olive oil. Set aside
Preheat grill or grill pan to medium heat. In a large bowl, whisk together 1 Tbsp olive oil and 2 tsp lime juice and season with salt and pepper. Add chicken breasts and toss to coat. Grill chicken for 6 minutes per side or until meat thermometer reads 165°F. Loosely cover chicken with foil and let rest for 5 minutes.
Add chopped avocado to salsa and season with salt and pepper; toss gently. Top chicken with salsa to serve.