The Mediterranean diet is a healthy, budget-friendly, and delicious eating pattern. Check out our top tips for following the Mediterranean diet on a budget and keeping up with your health goals.
Eating healthy and delicious foods while following the Mediterranean diet doesn't have to be complicated or expensive, and we're here to help! If you've been feeling stressed about the recent increases in food prices or wondering if the Mediterranean diet is a realistic option for you, you've come to the right place.
We're talking about tips for following the Mediterranean diet on a budget and pantry staples we love to have on hand. Healthy food should be accessible to everyone. We hope these budgeting tips help you feel more confident that the Mediterranean diet can be a great option for you and your family.
Top Tips for Mediterranean Diet on a Budget
The Mediterranean diet primarily focuses on eating lots of fruits, vegetables, nuts, whole grains, and lean protein. We've put together a few of our favorite ways to keep costs down while getting the most nutrition for the value.
Purchase Canned Foods
Purchase Bulk Foods
Purchase Frozen Foods
Purchase Vegetarian Ingredients
Use Online Ordering to Find Deals
Plan Recipes Ahead to Prevent Waste
1. Purchase Canned Foods
Canned foods are such a quick and easy way to boost a meal. Making a salad for lunch? Toss some chickpeas in for protein and fiber. Making spaghetti for dinner? Add in a can of green peas for antioxidants and minerals like magnesium. Canned veggies are quick to rinse and combine with your favorite dishes.
We recommend choosing low-sodium canned goods without added sugars or artificial ingredients. The store brands or generic brands are often less expensive than specialty brands. Canned foods are a low cost way to keep vegetables at home and avoid food waste because they are shelf stable. Try our Air Fryer Artichoke Hearts Salad with White Beans & Parmesan made with canned artichokes and canned white beans for a quick lunch.
2. Purchase Bulk Foods
Many grocery stores have a bulk section where dried goods are available for self serve. This allows you to scoop the ingredient in whatever quantity you want and it tends to be a cheaper option than pre-portioned products. Purchasing bulk ingredients is also a great strategy to reduce waste from packaging if you are able to bring your own containers.
Purchasing bulk goods is especially cost effective for products you eat often. The cost savings of frequently consumed foods will add up throughout the year, saving you more, and if you are eating it more frequently you won't risk the food going bad in your pantry.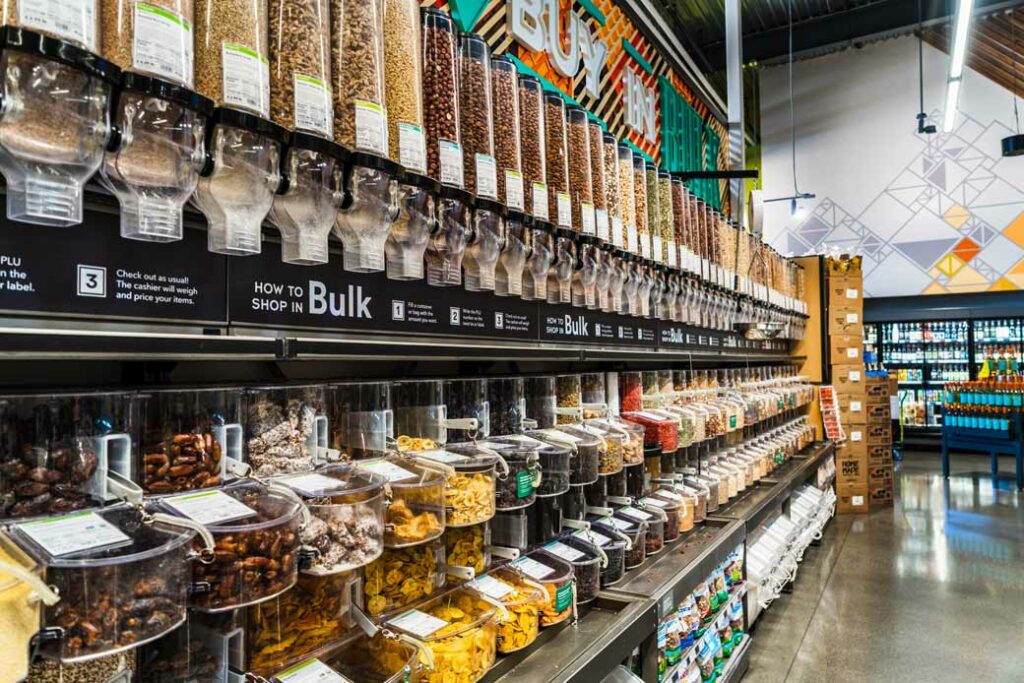 Budget-Friendly Bulk Food Ideas
Brown rice
Quinoa
Flour
Oats
Nuts
Dried Fruit
3. Purchase Frozen Foods
We love using frozen foods in our recipes because they are frozen at peak readiness. Research indicates that when frozen fruits and vegetables were compared to fresh goods, in most cases the frozen goods didn't contain significantly different nutrient composition. In a few cases, the frozen foods actually contained higher nutrient contents than fresh-stored produce.
Purchasing frozen produce is a great strategy to make sure you always have some healthy ingredients available but ensure they won't go bad or be wasted, saving you money in the long-term. Additionally, frozen produce is often cheaper than fresh produce.
4. Purchase Vegetarian Ingredients
Meat is generally more expensive than vegetarian protein sources so planning some of your meals to be vegetarian can be a great way to keep your grocery bill down. Some of our favorite vegetarian protein sources include beans, dairy products, nuts, and tofu. Check out our Ultimate Guide To Following A Vegetarian Mediterranean Diet if you're looking for more ideas or guidance on eating a plant-based diet.
5. Use Online Ordering To Find Deals
Some grocery stores have started to incorporate online ordering platforms that allow you to just pick up your bagged order. This can be a great way to search the site, sort by prices, and find deals on your favorite products. By adding everything to your online cart and reviewing your weekly meal plan, you can then adjust according to your budget and needs. The Mediterranean diet is a flexible, allowing each family to customize their meals based on what works best for them.
6. Plan Recipes Ahead To Prevent Waste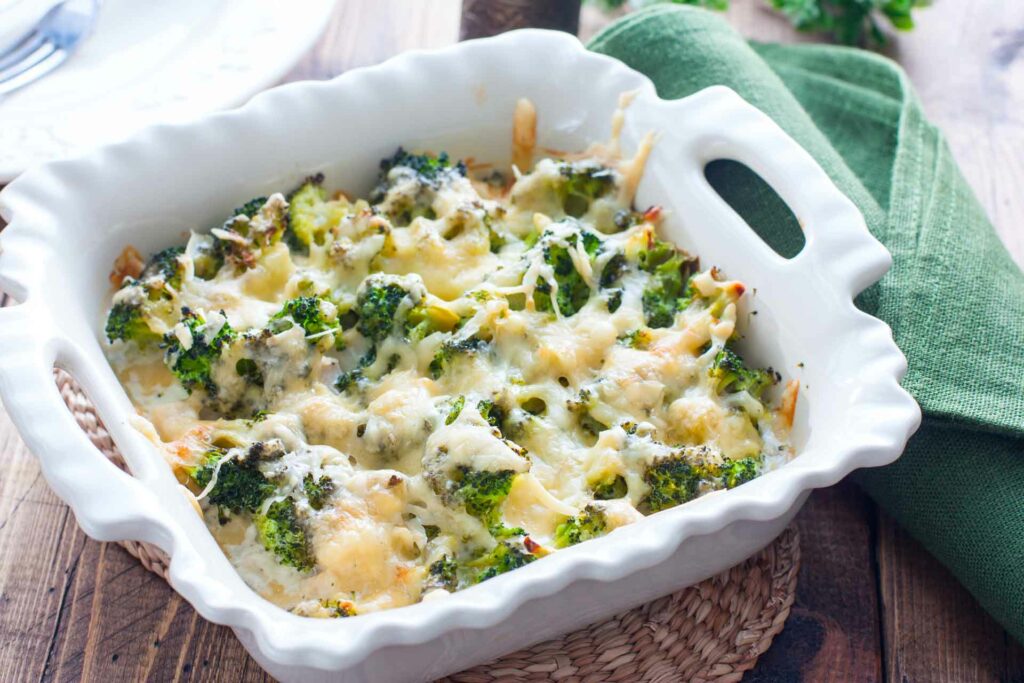 Last but not least, making a plan at the beginning of the week is a great trick to following the Mediterranean Diet on a budget. Choosing recipes that require many of the same ingredients makes grocery shopping easy, and you'll ensure that you have a plan for each ingredient so nothing goes to waste. Check out this quick example:
Healthy Chicken Broccoli Quinoa Casserole for dinner at the beginning of the week.
Spicy Stir-Fried Broccoli for your dinner side dish later in the week to use up the rest of the broccoli.
Quinoa Bowls with Avocado and Egg for a quick breakfast or lunch to use the rest of your cooked quinoa.
Staple Ingredients We Keep On Hand
This is by no means a comprehensive list but it's a great place to get you started thinking about Mediterranean diet staples that are budget friendly. 
Bulk
Brown rice
Flour
Oats
Lentils
Canned Goods
Canned beans (black beans, chickpeas, white beans)
Canned Veggies (artichoke, beets, tomatoes)
Frozen Goods
Frozen veggies (broccoli, spinach)
Frozen fruit (strawberries, mango)
Frozen chicken breast
Other Pantry Staples
Nuts & seeds (walnuts, sesame seeds, peanuts)
Nut butter
Olive oil
Ready To Pick A Recipe for a Tasty Mediterranean Diet on a Budget?
Check out these Mediterranean diet recipes made with pantry staples.