Topped with a creamy layer of cheese and packed with protein, whole-grains, and veggies, this Healthy Chicken Broccoli Quinoa Casserole will check all your boxes.
Make this creamy cheddar chicken bake for your whole family! Easy and healthy casserole dinners are always a favorite. We love quinoa for its many health benefits and because it's quick to cook. This recipe can also be made vegetarian with a few easy swaps. Try out our healthy chicken quinoa casserole for an easy meal prep dinner!
Nutrition Benefits Of Using Quinoa
We picked quinoa because it is easy to prepare, cooks quickly, and there are so many delicious ways to use it. While quinoa is technically a seed, it has a similar nutrient profile to whole-grains so it's often considered a grain. Research indicates that consumption of whole grains is associated with reduced risk of diseases such as cardiovascular disease, diabetes, and cancer.
Quinoa is high in fiber, protein, and minerals like magnesium and folate. Studies have shown that consumption of quinoa is associated with improved lipid profiles, weight loss, and improved glycemic control. Additionally, quinoa is a delicious gluten-free option for individuals who need to avoid gluten. The quinoa in this chicken quinoa casserole adds a great texture and flavor.
Lightened Up Creamy Casserole
Creaminess often comes from butter, cream and other foods that are high in saturated fat. This cheddar chicken bake is made with low fat milk, greek yogurt, and a little cheddar cheese to keep the saturated fat content lower and instead boost the protein and calcium content. Using greek yogurt for dips and sauces is a great trick to create a thick, creamy texture without adding unhealthy fats. For this recipe, try using a low-fat, plain greek yogurt.
What You Need To Make Our Chicken Broccoli Quinoa Casserole
Quinoa
Vegetable or chicken broth
Broccoli florets
Olive oil
Boneless skinless chicken breast tenders
Salt and pepper
Low Fat milk
Greek yogurt
Red pepper flakes
Shredded cheddar cheese
Whole wheat breadcrumbs or panko
How To Make This Easy Chicken Quinoa Casserole
Wash and cut the broccoli into bite size pieces, then toss with oil and place on parchment paper on a baking sheet. Roast the broccoli for 15-20 minutes at 400°F. While the broccoli roasts, cook the quinoa in a pot according to the directions on the package. Heat a non-stick pan with oil. Toss the chicken with salt and pepper and then add to the skillet to saute until completely cooked. Lower the oven temperature to 350°F. In a bowl, combine the quinoa, milk, yogurt, half of the cheese, and red pepper flakes. Add in the chicken and broccoli. Mix well and then pour into a baking dish. Sprinkle with the rest of the cheddar cheese and breadcrumbs. Bake for 15-20 minutes. Enjoy!
Recipe Modifications:
Make this recipe vegetarian by omitting the chicken and using vegetable broth instead of chicken broth.
Make the recipe gluten-free by using gluten free breadcrumbs.
Make the recipe dairy-free by using vegan alternatives to the milk, yogurt, and cheese.

Healthy Chicken Broccoli Quinoa Casserole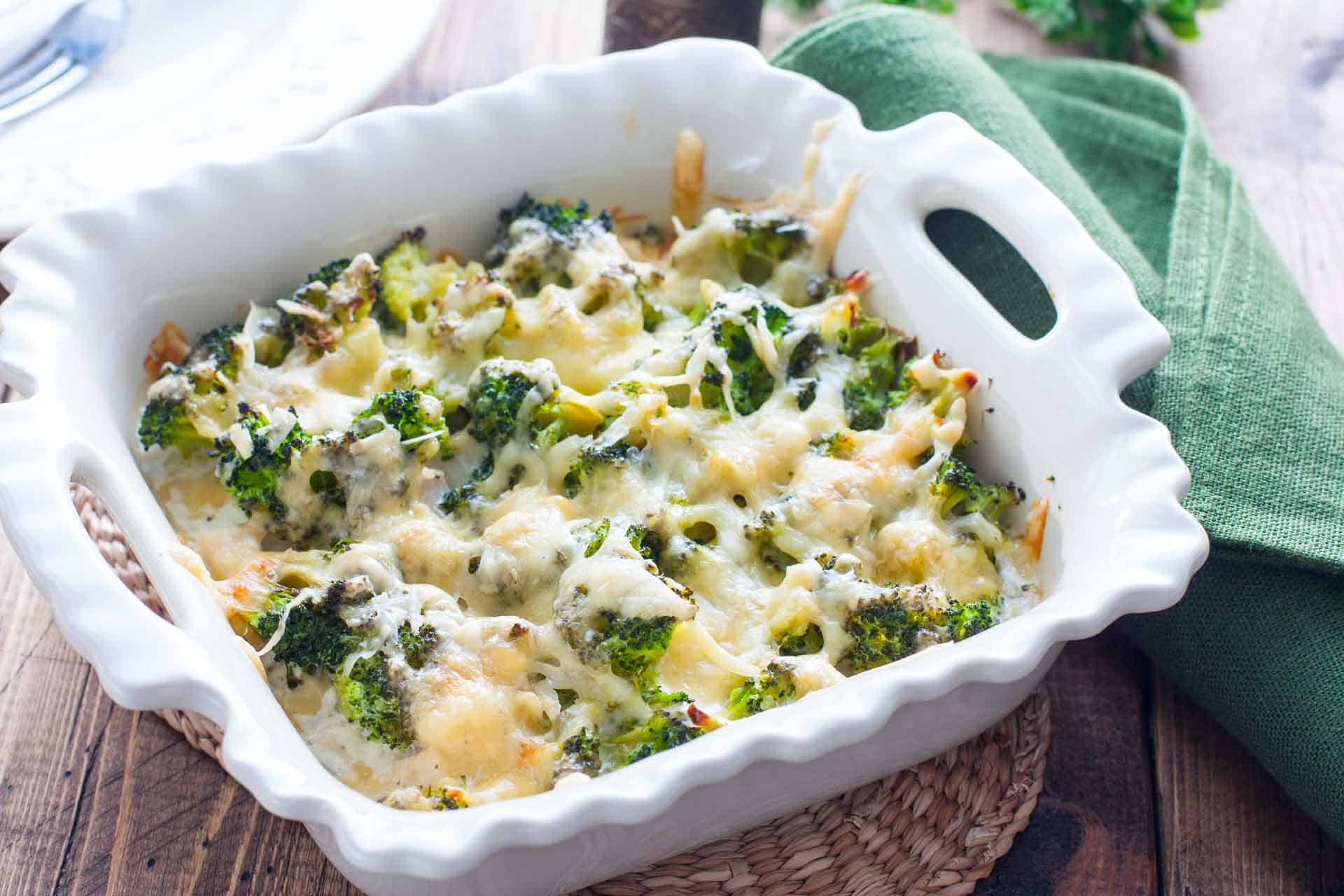 Equipment
Sheet pan

Nonstick skillet

Baking dish
Ingredients
1

cup

quinoa

2

cups

vegetable or chicken broth

3-4

cups

broccoli florets

cut into bite sized pieces

2

Tablespoons

olive oil

1

pound

boneless skinless chicken breast tenders

cut into bite-size pieces

Salt and pepper

1

cup

lowfat milk

⅓

cup

greek yogurt

½

teaspoon

red pepper flakes

1

cup

shredded cheddar cheese

divided

¼

cup

whole wheat breadcrumbs or panko

(or gluten-free breadcrumbs)
Instructions
Preheat the oven to 400°F. Line a baking sheet with parchment paper and set aside.

Place broccoli in a bowl and toss with the olive oil. Place on a baking sheet and roast for 15-20 minutes until broccoli is starting to brown. Set aside.

Cook quinoa according to package directions in vegetable or chicken broth.

While quinoa is cooking, add olive oil to a nonstick skillet and heat over medium heat. Salt and pepper the chicken tenders and add to the skillet. Cook, stirring occasionally until just cooked for about 5 minutes.

Lower oven temperature to 350°F.

In a large bowl, combine the quinoa, milk, greek yogurt, half of the cheese, and red pepper flakes. Add the broccoli and chicken. Taste and adjust seasonings.

Pour the mixture into a baking dish and top with remaining cheese. Sprinkle with breadcrumbs.

Bake uncovered until the cheese is melted and heated through about 15-20 minutes.
Looking For More Easy Bake Dinners?
Try one of our other sheet pan or casserole recipes to make dinner easy and delicious.