Here are easy Mediterranean dinner recipes with 10 ingredients or less for the days and nights when you're busy and want to make something quickly.
Here's a roundup of 10 delicious and easy Mediterranean dinner recipes that your whole family will love!
Planning Your Mediterranean Dinner Recipes
One of our favorite tips for following the Mediterranean diet is to create an outline of your meals for the week. Taking some time at the beginning of the week to plan what you will have for dinner each night will help you follow through with it. Planning in advance is a great strategy to ensure you're including a variety of foods too.
Try following this outline each week:
Add at least two servings of seafood each week.
Choose one meatless meal each week.
Add in 1-2 easy sheet pan meals.
What Does A Mediterranean Dinner Consist Of?
There are a few things we keep in mind when building Mediterranean dinners. Of course, we want it to be delicious! We want a meal that is satisfying from a flavor point of view and from a nutrition perspective. Here we're going to focus on the nutrition component.
Protein
Protein is the primary building block for all of our cells and cellular functions. Including a high-quality source of protein at dinner is essential for hunger regulation, muscle repair, and sustained energy. Protein is found in foods such as meat, eggs, dairy products, and beans. It is found in smaller quantities in other foods such as nuts and whole grains.
At dinner, we recommend filling a quarter of your plate with the higher protein foods. Most of these higher protein foods should be lower in saturated fat, such as choosing chicken instead of beef. This doesn't mean that all your meals need to contain animal proteins though. If you have questions about following a vegetarian Mediterranean diet we have answers and tips about how to do it.
Fruits & Vegetables
No surprise here! Fruits and vegetables are the pillars of the Mediterranean diet because they contain a bounty of important nutrients and add so much flavor to meals. Ideally we suggest filling half your plate with non-starchy vegetables such as leafy greens, zucchini, cucumber, carrots, broccoli, Brussels sprouts and more. These vegetables are high in fiber and lower in calories.
Complex Carbohydrates
Complex carbohydrates are foods like whole grains and starchy vegetables. These foods are important to include at dinner because they provide your body with quick energy and key vitamins and minerals. Examples of these foods are whole-wheat pasta, brown rice, quinoa, potatoes, corn, and peas. We recommend making complex carbohydrates a quarter of your plate.
Healthy Fats
The last component that is critical on the Mediterranean diet is healthy fats. Fats are commonly misunderstood because there are several types of fat.
On the Mediterranean diet we emphasize adding unsaturated fats to meals because they are important for heart, brain, and hormone health.
Saturated fats on the other hand are associated with heart disease and unhealthy lipid profiles so you want to limit them in your diet. Healthy fats include foods such as olive oil, avocado, fatty fish, and nuts.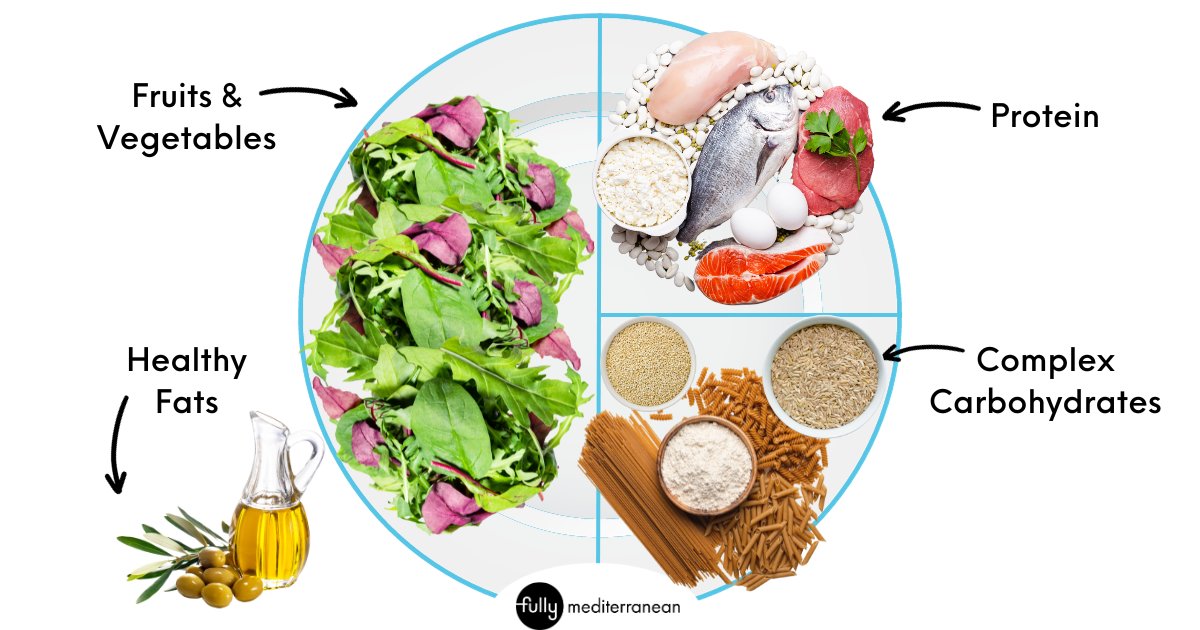 Building Flavor In Mediterranean Cooking
Now let's dive into the flavor component of easy Mediterranean dinner recipes. As you will see in the Mediterranean dinner recipes below, we use herbs, spices, dressings, and marinades to build flavor. In some cases a store-bought dressing works great and in other recipes we give you simple spice blends to make it on your own. A few key ingredients we suggest keeping on hand include:
Olive oil
Salt
Pepper
Lemon
Fresh herbs (basil, parsley)
Mediterranean Diet Dinner Recipes
Here is a roundup of some of our most popular Mediterranean dinner recipes. All these recipes have 10 ingredients or less which makes them realistic meals for busy schedules.
1. Sheet Pan Panko Crusted Dijon Salmon
Salmon is a popular ingredient on the Mediterranean diet because it is a fatty fish that provides many important nutrients. This sheet pan salmon is made with a simple panko crust and served with potatoes and vegetables.
2. Chicken Parm Burgers with Arugula
You can't go wrong with these Chicken Parm Burgers. They are made with ground chicken, marinara, cheese, and herbs. They are lighter than a traditional chicken parm that is breaded and fried. Don't forget to top them with fresh arugula for some extra greens.
3. Trader Joe's Harissa Chicken Thigh Sheet Pan
For our Trader Joe's fans, this sheet pan recipe can be prepped in just a few minutes and makes a complete meal. If you don't have a Trader Joe's nearby, you can choose a different brand of marinated chicken thighs or make your own marinade. Toss everything together and bake – so easy!
4. Sheet Pan Miso Ginger Chicken and Broccoli
This recipe is a balanced meal including protein, complex carbs, vegetables, and healthy fats. This meal is great for weeknights or meal prep because it doesn't require too much hands-on cooking time.
5. Chicken Parmesan Gnocchi Bake
Who doesn't love a cheesy bake? This recipe called for Trader Joe's Cauliflower gnocchi which is light, fluffy, and delicious. Try pairing this meal with a simple side salad of leafy greens.
6. Vegetable Flatbread Pizza
This flatbread pizza is a no-fuss dinner idea that we always enjoy. The key is to top it with lots of veggies. Keep flatbreads in your freezer so you always have some available on hand.
7. Shrimp Scampi With Zucchini Noodles
Zucchini noodles are a fun way to center the meal around the vegetables. This shrimp scampi is a lightened up version of traditional shrimp scampi and it comes together quickly in a skillet.
8. Simple Eggplant Rollups
This is a great recipe for Meatless Mondays (or any day of the week) to incorporate more vegetarian meals into your routine. The roasted eggplant has such a rich flavor and holds the ricotta filling.
9. Everything But the Bagel Crusted Tuna Bowl
The best part about tuna steaks is how quickly they cook. Just sear each side with the famous Everything But The Bagel Seasoning and assemble your bowl. You can get creative here but we suggest brown rice, edamame, carrots, and avocado.
10. Turkey, Kale, and White Bean Soup
This delicious white bean soup is high in fiber, antioxidants, and protein. The white beans provide plant-based protein and the turkey sausage adds additional protein, making this a filling meal.
Looking For More Easy Mediterranean Dinner Recipes?
Our recipe library is full of delicious Mediterranean dinner ideas that your whole family will love. We have a great selection of slow cooker, sheet pan, meal prep and many more dinner recipes. Try using our meal planning tips to outline your meals for the week.