This easy Sheet Pan Roasted Harissa Chicken is a flavorful, roasted chicken recipe that requires just 5 minutes of prep time.
Use this classic recipe for a simple twist to your regular chicken recipe. It can be added to salads, bowls, and more!
What Is Harissa Chicken?
Harissa is a seasoning from Tunisia made from dried red chiles, and a few other spices like cumin. It is commonly found as a paste when mixed with olive oil. Harissa adds a wonderful heat and smoky flavor to a dish.
Harissa paste is often used as a seasoning for meats, legumes, tacos and so much more. For this Sheet Pan Harissa Chicken we start with the dried spices and then add olive oil to make our own paste.
What To Serve With Harissa Chicken
This harissa chicken recipe is versatile and pairs well with so many delicious sides and salads. For a quick lunch on the go, try our Harissa Chicken Pita on a whole wheat pita bread. For a hearty dinner try our Harissa Chicken and Quinoa Bowl. If you're looking for a sweet and savory salad combination, try our Farro Salad with Harissa Chicken, Dates, Goat Cheese and Walnuts.
What You Need To Make Roasted Harissa Chicken
Chicken breasts
Harissa seasoning
Onion
Olive oil
Salt and pepper
How To Cook Harissa Chicken
To prepare this harissa roasted chicken, begin by preheating your oven and laying out the chicken breasts onto a sheet pan. In a bowl, combine the harissa seasoning with olive oil and mix well into a paste. Brush the chicken evenly with the harissa pasta. Toss chopped onions into the harissa paste bowl to coat with any remaining sauce. Add the onions to the sheet pan and bake for about 25 minutes or until the chicken is fully cooked. Check out the full harissa baked chicken recipe below.
If you're looking for an even quicker, no-mess harissa chicken dinner, try our Trader Joe's Harissa Chicken Thigh Sheet Pan which includes a pre-marinated chicken with delicious roasted veggies.

Roasted Harissa Chicken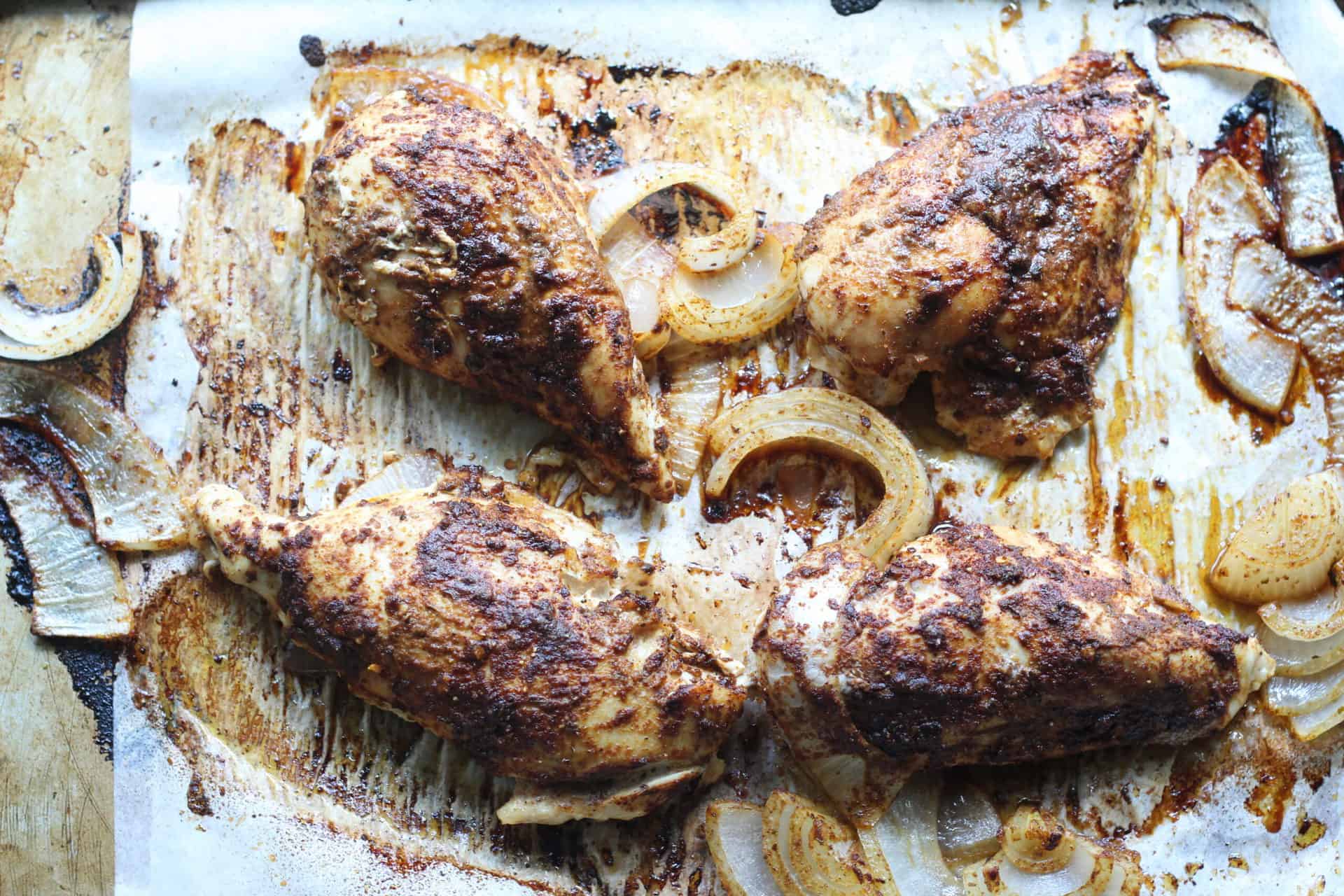 This easy Sheet Pan Roasted Harissa Chicken is a flavorful, roasted chicken recipe that requires just 5 minutes of prep time.
Ingredients
4

Boneless

skinless chicken breasts

2

Tablespoons

Harissa seasoning

2

Tablespoons

olive oil

1

onion

quartered

Salt and Pepper
Instructions
Preheat the oven to 425°F. Line a baking sheet with parchment paper.

Place chicken breasts on prepared baking sheet.

In a medium bowl, mix together the harissa and olive oil to make a smooth paste.

Brush the chicken breasts with the harissa.

Place the onion in the same bowl and toss with remaining harissa and add to the baking sheet.

Salt and pepper the chicken and onions.

Bake at 425°F for around 25 minutes depending on the size of your chicken breasts. Check with a meat thermometer – chicken is done at 165°F.
Looking For More Harissa Spiced Recipes?
Try one of our other favorite recipes to serve with this harissa chicken.
This recipe was originally posted September 2021 and has been updated with new content.