Our Greek Orzo Pasta Salad with Feta is a winning combination. This fresh greek pasta salad is great for a quick lunch or serve it with grilled chicken for a hearty dinner.
This greek orzo salad is made with fresh tomatoes, cucumbers, peppers and onions. Feta is a star ingredient because it's salty, savory, and adds a wonderful creaminess throughout the salad. And finally, we made a simple vinaigrette with olive oil, vinegar, and spices.
Try making this pasta salad in a large batch to enjoy for lunch throughout the week, or serve it at dinner for friends and family.
What Is Orzo?
Orzo is a type of pasta. While it looks like rice, orzo is actually made from wheat flour. Most orzo is made from durum wheat semolina. This is a coarse ground type of flour used most often for making pasta. Orzo works well in our Greek salad because of its wonderful firm, chewy textures which holds up well in any salad.
Is Orzo Healthy?
Orzo can absolutely be part of a healthy diet. We use whole wheat orzo in this recipe instead of regular orzo which is made with a more refined flour. Whole wheat orzo is higher in fiber, vitamins and minerals. Whole wheat flours also contain a little more protein than refined flours.
Orzo Nutrition Facts
Similar to other pastas, orzo contains primarily carbohydrates. A serving size of whole wheat orzo is 2 ounces or about 1/3 cup uncooked. A serving size of whole wheat orzo contains about:
190 calories
37 grams of carbohydrates
7 grams of protein
1 gram of fat
4 grams of fiber
8% of daily iron
6% of daily potassium
The fiber in whole wheat orzo makes this salad even more filling and supports digestion. Choosing whole wheat products is a great way to increase your iron intake which is an essential mineral in our diet for blood health.
Is Orzo Gluten-Free?
It's important to remember that orzo isn't gluten-free. If you follow a gluten-free diet, you can swap the orzo for quinoa or rice. You can also find orzo made with other gluten-free flours like cassava flour.
How To Cook Orzo
Cook your orzo according to the package directions. Instead of using water to boil the pasta, we use chicken or vegetable stocks. This adds extra savory flavor to the greek orzo salad. Orzo generally takes about 7-8 minutes to cook al dente. It's important to stir regularly because orzo easily clumps and sticks in the pot.
How To Prepare Greek Orzo Salad
While your orzo boils in the stock, combine your vinaigrette ingredients into a mason jar, cover and shake well. Wash and cut your vegetables according to the ingredients. Once the orzo is done cooking, drain and combine in a bowl with the vegetables. Toss the orzo and veggies together and then pour the dressing to coat. Top with feta and any extra herbs. Enjoy this wonderful greek orzo salad!
Get Creative!
Serve the pasta salad with extra chopped greens like spinach or kale.
Add grilled chicken or salmon for extra protein.
Add chickpeas for a hearty plant-based option.

Greek Orzo Pasta Salad with Feta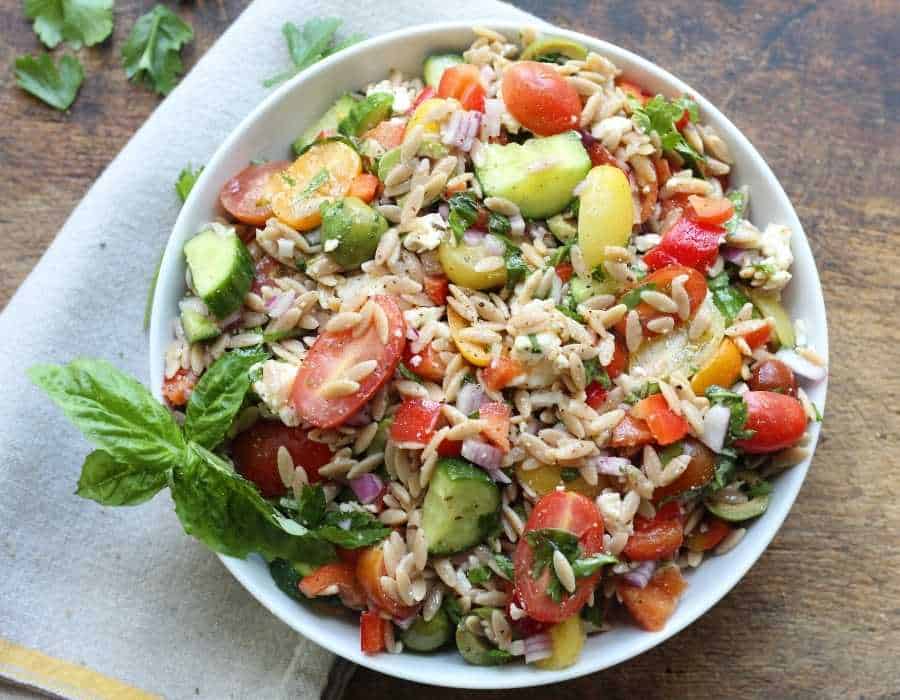 Greek pasta salad is great for a quick lunch or serve it with grilled chicken for a hearty dinner. This greek orzo salad is made with fresh vegetables, feta, and a delicious vinaigrette.
Ingredients
Pasta Salad
1

cup

whole wheat orzo

2

cups

vegetable or chicken stock

1

pint

cherry tomatoes

halved

3 -4

mini cucumbers

chopped

1

bell pepper

red, yellow or green, chopped

½

red onion

diced

½

cup

Castelvetrano olives

halved

Handful of fresh parsley and basil

roughly chopped

½

cup

feta

crumbled
Vinaigrette
⅓

cup

Olive oil

¼

cup

Red wine vinegar

1

clove

garlic

1

teaspoon

oregano

Salt and pepper to taste
Instructions
Cook orzo according to package directions using the vegetable or chicken stock and set aside.

While the orzo is cooking make the vinaigrette: add all of the ingredients to a mason jar and shake.

In a large bowl combine all the salad ingredients and toss to combine. Pour the vinaigrette over the salad and toss to coat. Garnish with more feta and herbs if desired. Enjoy!
Looking For More Delicious Greek Recipes?
Try one of our tasty Greek-inspired dinners.