We love these Fresh Vegan Spring Rolls with Peanut Dipping Sauce for a fun appetizer, lunch, or dinner.
The spring rolls are made with crunchy veggies, herbs, and paired with a peanut dip. While the Mediterranean diet usually includes animal proteins such as fish, lean meat, and dairy, some people choose to focus on mostly vegetarian or vegan Mediterranean eating. It's even possible to eat a purely vegan diet if that aligns with your values.
So, here is one delicious example of what a vegan Mediterranean diet dish can look like.
What Are Vegan Spring Rolls
Spring rolls are rice paper rolls filled with a variety of vegetables and herbs. These spring rolls are similar to vegan Vietnamese spring rolls, both of which are not fried or cooked. Instead the rolls are served fresh and cold, making them light and refreshing.
Vegan spring rolls are easily customizable to your preferences and what you have available at home.
Are Spring Rolls Vegan?
These spring rolls are made with all vegan ingredients. All the plant-based ingredients in these spring rolls adds amazing flavor and nutrition. The Peanut Dipping Sauce is also a flavorful, vegan dip to enjoy with the spring rolls.
We have included some customization ideas below with animal products if you would like to add them for additional protein.
Nutrition Benefits Of Veg Spring Rolls
​​If you are looking to increase your consumption of vegetables, and as we like to say, "eat the rainbow",  look no further!
Colorful vegetables like cucumber, carrot and cabbage are good sources of fiber which support a healthy microbiome and heart health.
These vegan spring rolls are packed with fiber, antioxidants and vitamins.
The herbs like basil and mint are high in antioxidants which protect against free radical damage and long-term inflammation.
Not only is the Peanut Dipping Sauce delicious but it contains healthy fats which make this recipe more filling and help your body absorb fat soluble nutrients found in the vegetables.
What To Serve With Spring Rolls
These spring rolls are best served with our Peanut Dipping Sauce. If you are enjoying the spring rolls as an appetizer, we suggest plating them together with the dipping sauce.
If you are serving these as your main meal, we recommend adding edamame or tofu inside the rolls for a little extra plant-based protein. This will help keep you full for longer.
What Are Vegan Spring Rolls Made Of?
Here's what you need to prepare these fresh spring rolls.
Spring Rolls
Brown Rice Noodles
Basil leaves
Mint leaves
Carrots
Red cabbage
English cucumber
Lettuce
Rice paper rounds
Peanut Sauce
Peanut butter
Low sodium soy sauce or tamari
Rice wine vinegar
Lime juice
Fresh ginger
Sriracha
Fish sauce
Customize Your Spring Rolls
This veg spring roll recipe is fun to customize with additional protein sources and herbs. Try to include as many different colors as you can into your spring roll!
For extra protein, try adding:
Tofu (vegan)
Edamame (vegan)
8 Medium shrimp, cooked and halved
1 cup of chicken, baked and shredded
For extra flavor, try adding:
How To Make Vegan Spring Rolls With Peanut Sauce
Make the peanut sauce by combining all the ingredients in a blender or food processor, adding water to reach desired consistency.
Set up your spring roll ingredients for easy assembly. Cook the brown rice noodles according to the package instructions.
Assemble the spring rolls by first dipping the rice paper rolls in water to soften them. Then fill with the vegetables and noodles. Roll up the spring rolls and set aside. Enjoy with the Peanut Dipping Sauce!

Fresh Vegan Spring Rolls with Peanut Dipping Sauce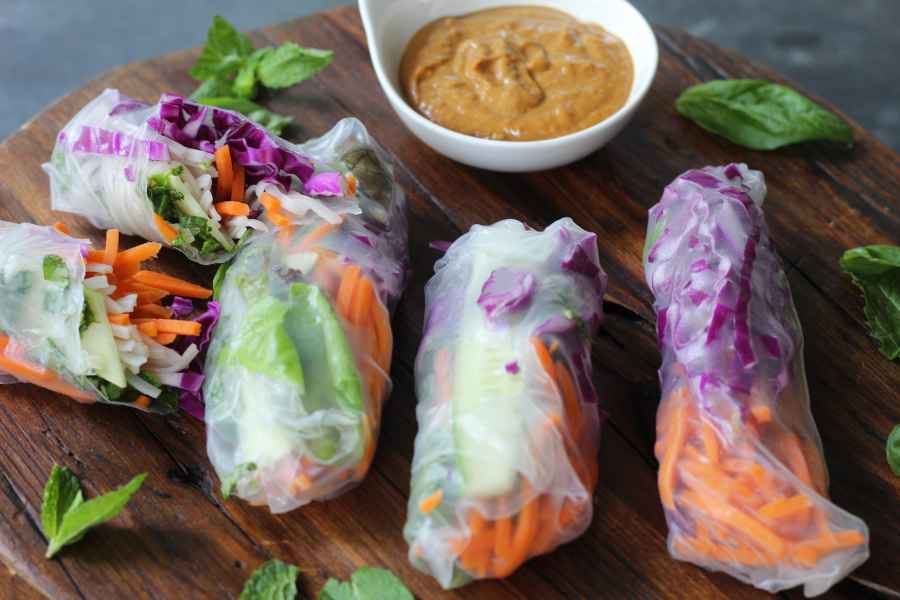 We love these Fresh Vegan Spring Rolls with Peanut Dipping Sauce for a fun appetizer, lunch, or dinner.
Equipment
Blender or food processor
Ingredients
Spring Rolls
4

oz

Brown Rice Noodles

or rice vermicelli

1⁄4

cup

basil leaves

roughly chopped

½

cup

mint leaves

roughly chopped

2

carrots

grated

1

cup

of red cabbage

thinly shredded

1

english cucumber

sliced into matchsticks

1

cup

of lettuce; red leaf or butter

ribs removed and torn into pieces

8

Rice paper rounds (spring roll wrappers)
Peanut Dipping Sauce
3

tbsp

natural unsalted peanut butter

2-3

tbsp

low sodium soy sauce

or tamari

1

tbsp

rice wine vinegar

1

tbsp

lime juice

2

teaspoons

fresh ginger

minced

¼

tsp

Sriracha

1

teaspoon

fish sauce

Water

for thinning
Instructions
Make the sauce: Add all ingredients except water to a blender or food processor. Blend until smooth, adding water to desired consistency. I added 1 tablespoon of water. Set aside.

Gather your ingredients to make your rolls: Prepare brown rice noodles according to package directions, chop ingredients and place in individual bowls.

Fill a large pie pan (9" works great) or large bowl with hot water. Place one wrapper in the hot water. Soak for about 30 seconds until it becomes pliable. Place on damp kitchen towel.

Place about a tablespoon of cabbage and carrot toward the bottom of the wrapper, leaving 1" from the edge. Top with a 1⁄4 cup of rice noodles, sliced cucumber, torn lettuce and finally your basil and mint.

Fold the lower edge over the filling, and tuck in the sides as you continue to roll. Wet your fingers with a little water and press the end of the wrapper to the other side to secure the roll. Repeat with remaining ingredients.

Serve whole or slice in half with a sharp knife. Enjoy with the dipping sauce!
Looking For More Vegan Mediterranean Diet Recipes?
Here are a few other plant-based recipes to try!