Our delicious Shakshuka with Feta is made with a base of fire-roasted tomatoes, peppers, poached eggs, and topped with feta and herbs.
All you have to do is pull out a cast iron pan and sauté those peppers and onions. Then just add in the tomatoes and spices, and finally crack your eggs in to cook. Scoop up the delicious sauce and runny eggs with your bread of choice. This Shakshuka with feta will become a staple recipe in no-time. Shakshuka is a versatile meal that can served for breakfast, lunch or dinner.
What Is Shakshuka With Feta
Shakshuka is a delicious dish made with a spiced tomato-based sauce and then eggs are poached right in the sauce. Shakshuka is originally from the Middle East and North Africa but it has become a popular dish around the world.
This shakshuka with feta is rich, a little spicy and so flavorful. You will be scooping up every last bit of sauce. The sauce is spiced with paprika, garlic, cumin, and cayenne. The eggs are poached right in the sauce which gives them so much great flavor while also leaving the yolks soft. We top this tasty brunch dish with feta and fresh herbs.
Is Shakshuka Healthy?
Shakshuka is a nutrient-dense meal made with many vegetables, lean protein, and healthy fats. Starting off the day with a healthy breakfast will help encourage you to keep up your healthy habits the rest of the day. In addition, eggs are a great source of protein and healthy fats that will help stabilize your blood sugar throughout the morning and keep you full.
Shakshuka with Feta Nutrition
The Shakshuka sauce, made with peppers, tomatoes, and spices, is nutrient dense and low-calorie.
Peppers are rich in vitamin C and antioxidants, which support your immune system.
Tomatoes are another excellent source of vitamin C and a good source of vitamin A. Tomatoes also contain the carotenoid lycopene, which is an antioxidant that helps to protect against cancer and heart disease.
Eggs are a great source of lean protein. One egg contains about 70 calories, 6 grams of protein and 5 grams of fat. Eggs are a good source of choline, phosphorus, iodine, selenium, and riboflavin.
What To Serve With Shakshuka
Shakshuka with feta is great on its own or you can pair it with bread for dipping. Try serving our shakshuka with toasted bread, pita, or naan to scoop up all the amazing sauce. Shakshuka also goes well with a cold spinach or cucumber side salad.
Shakshuka is a popular dish because it only requires one pan and you can make many servings of eggs at once. This recipe is easy to share and it's packed with vitamins and minerals. 
What You Need To Make Shakshuka
Eggs
Red bell peppers
Onion
Garlic cloves
Ground cumin
Sweet paprika
Cayenne
Fire-roasted tomatoes
Salt and pepper
Eggs
Feta cheese
Cilantro or parsley
Extra virgin olive oil
How To Make Shakshuka With Feta
Begin by heating your skillet with a little oil. Then add in your sliced peppers and onions to cook for a few minutes. Next, add in the garlic and spices to cook for another few minutes. Then add your fire-roasted tomatoes. Simmer the tomatoes for a few minutes and then make pockets in the sauce for the eggs to cook. Season the eggs and cook until they are your desired doneness. Add your toppings and enjoy!
If you like, you can add spinach right into the Shakshuka sauce just before adding the eggs. Shakshuka with spinach is a great way to boost the nutrition content and sneak in some extra veggies.

Easy Shakshuka With Feta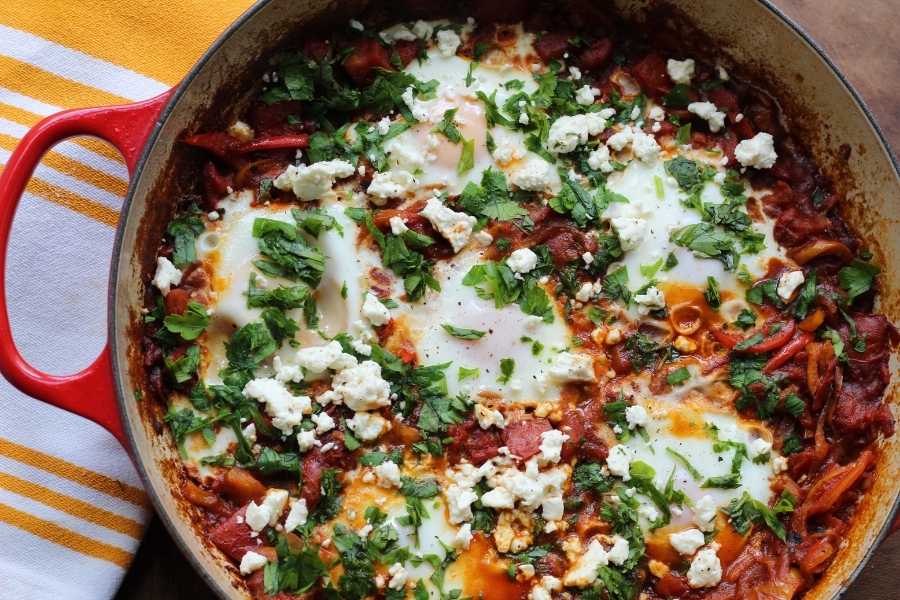 You will love this flavorful and nutrient-dense Easy Shakshuka with Feta which is made with a base of fire-roasted tomatoes, peppers and poached eggs.
Equipment
Cast iron pan or large skillet
Ingredients
3

Tablespoons

extra virgin olive oil

2

red bell peppers

seeded and thinly sliced

1

large onion

thinly sliced

3

garlic cloves

minced

1 ½

tsp

ground cumin

1

tsp

sweet paprika

Pinch

of cayenne

or to taste

1

28 oz can fire-roasted, diced tomatoes with juices

Salt and pepper

6

large eggs
Garnish
Feta cheese

crumbled

Chopped cilantro and/or parsley
Instructions
Heat oil in a large skillet over high heat. Add bell peppers and onion. Saute until starting to brown for about 5-10 minutes.

Add garlic and cook until tender, 1-2 minutes; stir in cumin, paprika, and cayenne. Cook 1 minute then add tomatoes and season with salt and pepper. Turn down heat and simmer until tomatoes have thickened, about 10 minutes. Taste and adjust seasoning.

Using the back of a large spoon, make a well near the side of the pan and break an egg gently into it. Repeat with remaining eggs, working around the pan. Season eggs with a little salt, cover with lid and cook until eggs are set about 7-10 minutes.

Sprinkle with cilantro and/or parsley and feta. Enjoy!
Looking For More Healthy Breakfast Recipes?
Here are a few of our favorite savory recipes for a healthy brunch.