Enjoy this Tropical Mango Banana Green Smoothie for a nutritious way to start your day! Smoothies come together in minutes and this one is balanced with protein, healthy fats and carbohydrates.
This refreshing smoothie, from Claire Virga Nutrition, is made with banana, spinach, nuts and seeds for a nutrient-packed breakfast.
Are Tropical Smoothies Healthy?
This mango banana spinach smoothie is a super nutritious breakfast thanks to all the fruits, veggies, nuts and seeds. There are two star nutrients that boost the healthfulness of this blend: fiber and healthy fats.
Fiber
One of the reasons we love this smoothie is because it's high in fiber.
Both types of fiber, soluble and insoluble, are found in this mango banana smoothie.
This smoothie contains almost 10 grams of fiber.
Fiber is important for regular digestion, healthy cholesterol levels, and our gut microbiomes.
A low fiber diet is associated with greater risks of chronic diseases like diabetes and heart disease. Start your day with a fiber-rich smoothie like this one to get a head start on your fiber for the day.
Healthy Fats
The healthy fats are another component that makes this smoothie so nutritious. Healthy fats are found in the almond butter and the chia seeds. These ingredients are low in saturated fat but contain unsaturated fats that are heart healthy and keep us feeling full.
What Are The Benefits Of Mango and Banana?
Mango and banana are both bright, refreshing fruits that add great nutrition to this smoothie. Bananas contain fiber, potassium and vitamin B6. Try keeping peeled bananas in the freezer so you have your smoothie ingredients ready to go.
Mangos are high in vitamin A and vitamin C which both support the immune system and reduce inflammation. Cubed, frozen mangos are available in the freezer section of grocery stores which are easy to add into this vegan tropical smoothie.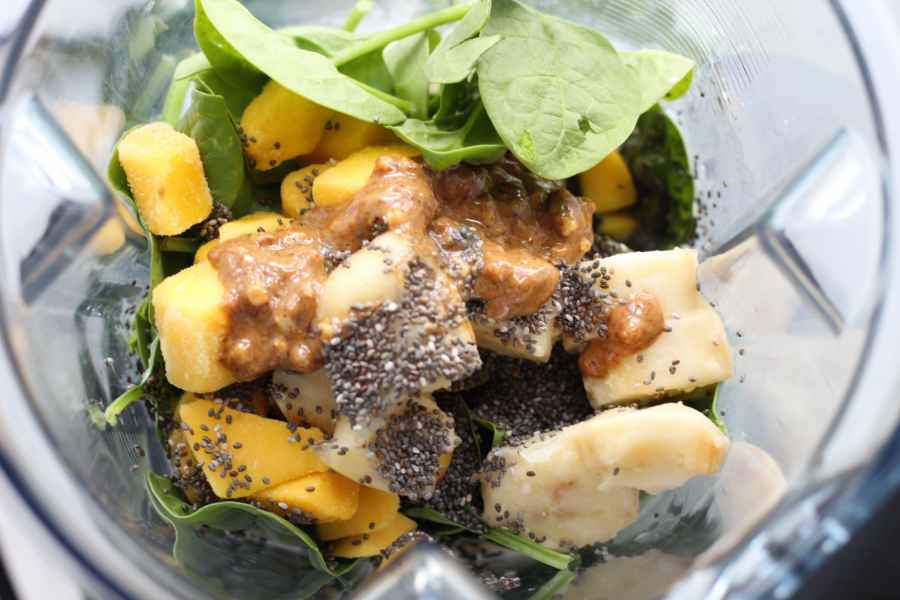 What You Need To Make Our Mango Banana Smoothie
There are only 6 ingredients needed for this smoothie.
Spinach
Almond milk
Frozen banana
Frozen mango
Almond butter
Chia seeds
How To Prepare This Mango Banana Smoothie Recipe
Combine all the ingredients together in the blender and blend until the smoothie reaches your desired consistency. Enjoy!

Tropical Mango Banana Green Smoothie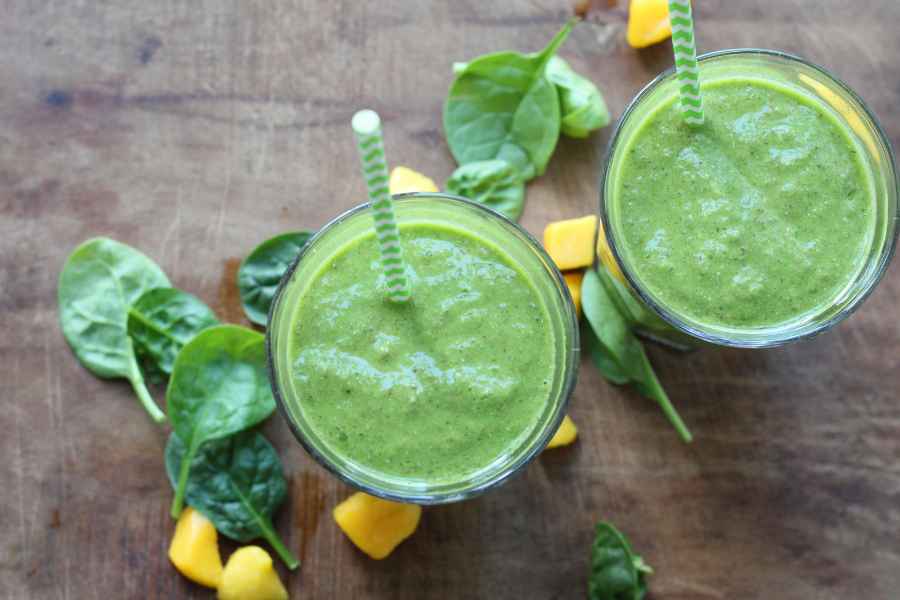 Enjoy this Tropical Mango Banana Green Smoothie for a nutritious way to start your day!
Ingredients
2

cups

spinach

1

cup

almond milk

1/2

of a frozen banana

1/2

cup

frozen mango

1

tbsp

almond butter

1

tbsp

chia seeds
Instructions
Blend together in a high speed blender until smoothie reaches your desired consistency!
Looking For More Fruity Breakfast Recipes?
Here are a few more of our favorite ways to enjoy fruit in the morning.