These shredded beef sliders are such a fun and easy meal to serve for dinner or bring to a party. The meat is tender, moist, and so flavorful!
They're made with beef chuck roast in a slow cooker for several hours which means you can do the cooking ahead of time. The jalapeños and coleslaw add the perfect cold crunch to every bite. We love to serve these beef Hawaiian rolls at celebrations or gatherings like a Super Bowl party!
Consuming Red Meat On The Mediterranean Diet
The Mediterranean diet is based on low red meat consumption, but no food groups are completely off limits. Instead, the Mediterranean diet highlights the importance of enjoying all foods in moderation.
While there aren't specific dietary guidelines for red meat, research indicates that limiting red meat consumption to 3.5 servings per week is associated with lower risk of disease. However, red meat contains many beneficial nutrients such as iron, zinc, and B vitamins. We recommend enjoying red meat in reasonable portions, about the size of your palm or a deck of cards.
Health Benefits Of Chili Peppers
Though they are often overlooked, herbs and spices are packed with nutrients. Chili peppers are packed with antioxidants, vitamin A, ascorbic acid and more. Recent research in adults found that consumption of chili peppers was significantly associated with lower cardiovascular disease risk and lower mortality rates. Due to the high antioxidant content in chili peppers, studies have shown the potential protective properties of chili peppers against diseases such as obesity and cancer. The chipotle chili powder in these beef sliders adds a delicious heat and provides important health benefits.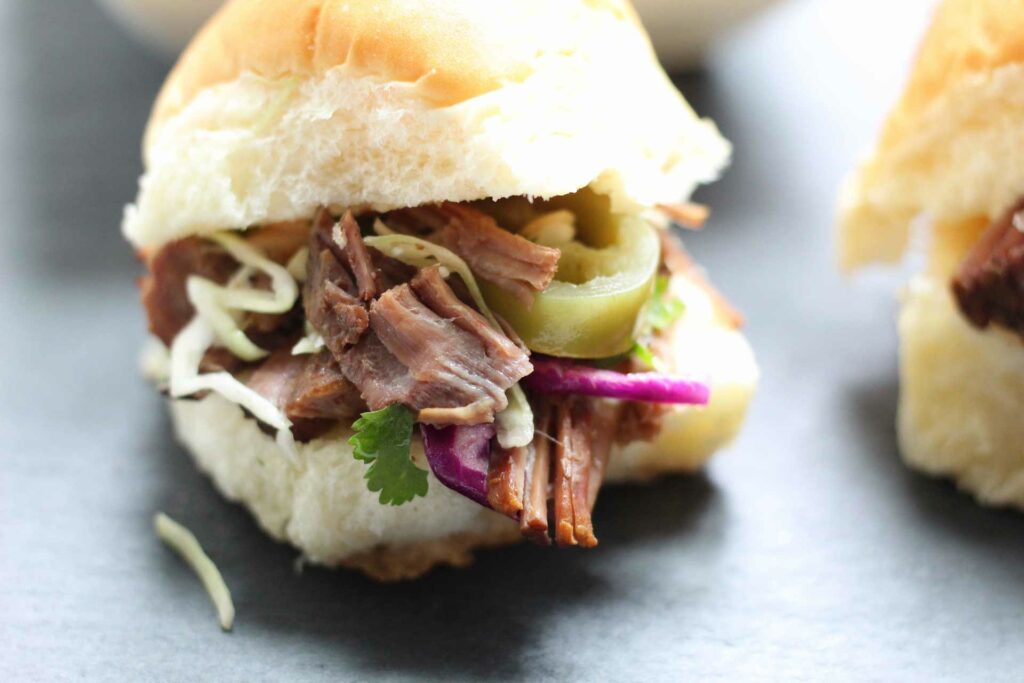 What You Need To Make Our Shredded Beef Sliders
Yellow onion
Garlic
Boneless beef chuck roast
Ground cumin
Dried oregano
Chipotle chili powder
Kosher salt
Crushed fire roasted tomatoes
Coleslaw mix
Cilantro leaves
Hawaiian rolls
Pickled jalapeños
Guacamole
Lime Vinaigrette Ingredients
How To Make Chipotle Beef In A Slow Cooker
Combine garlic and onions in the bottom of the slow cooker. Rest the beef chuck on top of the onions. Season the beef with spices and salt. Pour the crushed tomatoes into the slow cooker. Cover the meat and set to cook for 7-8 hours. Once the beef is done, use two forks to shred it for your shredded beef sliders. Check out the full recipe below to make the coleslaw and toppings.
Recipe Modifications
Instead of Hawaiian rolls, try this chipotle beef in taco shells, burritos, or in a salad.
Feel free to swap in chicken breast for a leaner meat instead of beef chuck roast. Adjust cooking times as necessary.
Try topping the rolls with melted cheese, pickled onions, or tomatoes. There are so many tasty options!

Slow Cooker Chipotle Shredded Beef Sliders
These slow cooker chipotle shredded beef sliders are easy to make ahead of time and packed with flavor.
Ingredients
Chipotle Beef Sliders
1

large yellow onion

sliced

6

cloves

garlic

finely chopped

3 1/2

lb

boneless beef chuck roast

1 1/2

tsp

ground cumin

1

tsp

dried oregano

1

Tbsp

chipotle chili powder

Kosher salt

1/2

cup

crushed fire roasted tomatoes

4

cups

coleslaw mix

1/4

cup

cilantro leaves

16

Hawaiian rolls

1/2

cup

sliced pickled jalapeños

1

cup

prepared guacamole
Lime Vinaigrette
2

Tbsp

olive oil

2

Tbsp

lime juice

1

tsp

honey
Instructions
Layer sliced onion and garlic in the bottom of the slow cooker. Place beef on top of onions, sprinkle with cumin, oregano, chili powder, 1 tsp salt, and add tomatoes.

Cover and cook on low until beef is tender and pulls apart easily, 7-8 hours.

When beef is done, transfer to a large bowl and shred with 2 forks. Season with additional salt to taste.

In a small bowl, combine vinaigrette ingredients, then toss with coleslaw mix and cilantro until combined.

To serve, divide shredded beef among rolls. Top with slaw, pickled jalapenos, and a dollop of guacamole.

Get creative! Try this shredded beef in tacos, burritos, taco salad, etc. Substitute chicken breast for the beef.
Easy Slow Cooker Recipes
Try out one of our other slow cooker recipes for an easy weeknight dinner!