Turn grapefruit into something indulgent and delicious with our Broiled Grapefruit Brûlée. This is the perfect way to add some immune-boosting vitamin C to your plate!
Have you ever sprinkled a little white sugar on your grapefruit to offset some of the sour flavor? This broiled grapefruit recipe will take your grapefruit to the next level. By dipping a grapefruit into brown sugar and then broiling it, you will create the most amazing caramelized topping.
How Much Vitamin C Is In A Grapefruit
Like many fruits, grapefruit is packed with antioxidants, fiber, and vitamins. Half of a medium grapefruit contains more than 50% of your recommended daily intake of vitamin C! It also contains about one-third of your daily intake of vitamin A, and smaller amounts of potassium and B vitamins. Start your day with this caramelized grapefruit to boost your immune system.
Health Benefits of Vitamin C in Grapefruit
Grapefruits are high in vitamin C and other antioxidants. Vitamin C is especially important for collagen formation. Collagen is a protein in our skin, bones, and wounds. Eating plenty of vitamin C in your diet will help support your bones, skin, immune system, and it can help reduce inflammation. Try this Broiled Grapefruit Brûlée for a delicious serving of vitamin C.
What You Need To Make Our Broiled Grapefruit Brûlée
How To Make Broiled Grapefruit
Begin by heating your broiler on high. Slice ¼ inch from the end of the grapefruit to help it sit flat, and then slice it in half. Allow the grapefruit to rest face down on a paper towel for about 10 minutes to help them dry. Then tap the grapefruits face down onto a plate sprinkled with brown sugar. Once they are well coated with sugar, set them face up on a baking sheet. Broil for about 8 minutes. Enjoy!

Broiled Grapefruit Brûlée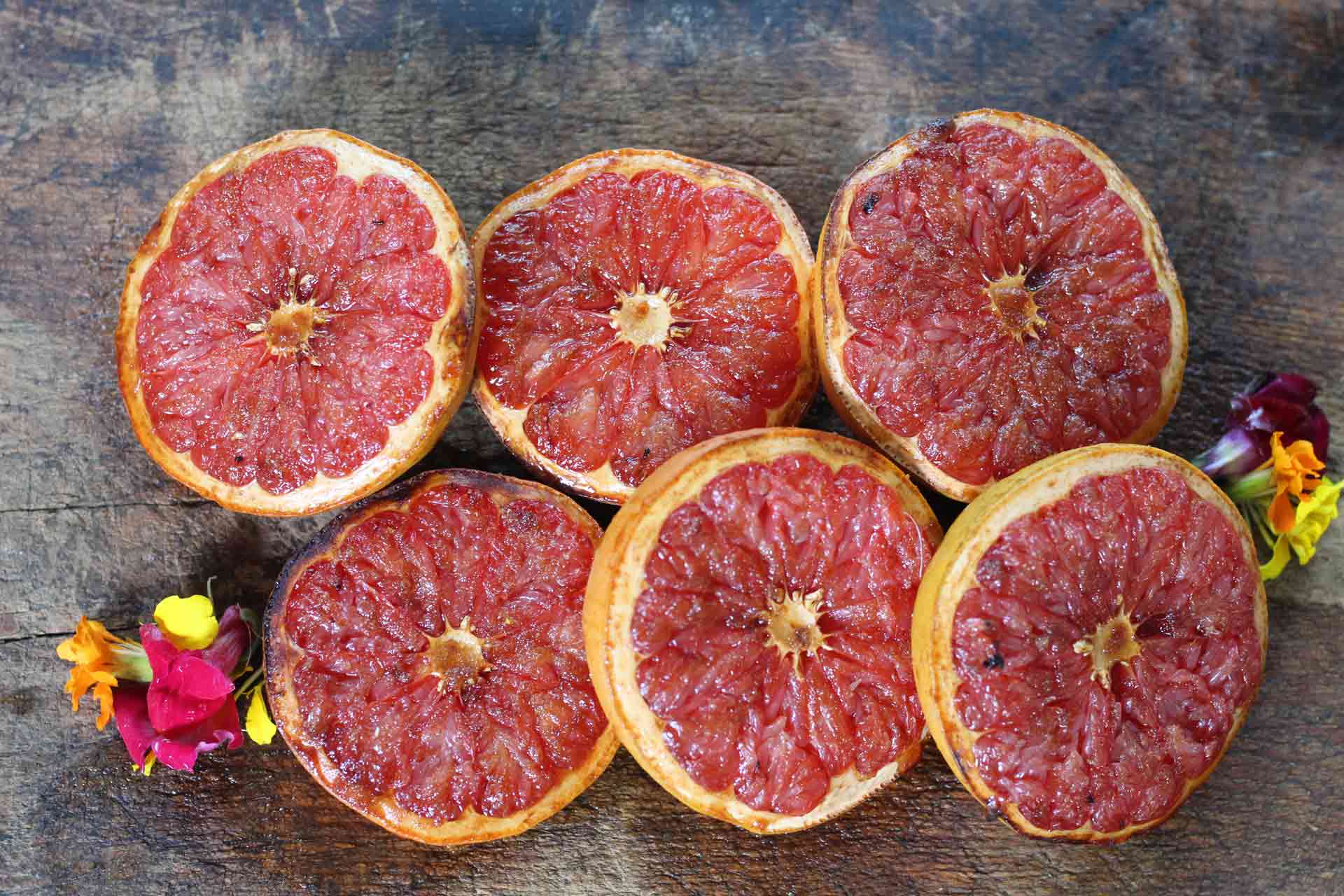 Turn grapefruit into something indulgent and delicious with our Broiled Grapefruit Brûlée.
Ingredients
3

ruby red grapefruits

½

cup

brown sugar
Instructions
Heat the broiler to high (or alternatively, use a kitchen torch).

Prepare the grapefruit by cutting the top and bottom rind to create a flat surface (removing about ¼ inch from the top and bottom of the grapefruit).

Cut the grapefruits in half and place them face down on a layer of paper towels to draw excess moisture from the surface (this will allow the sugar to adhere to the citrus during cooking). Allow them to sit for 5-10 minutes.

Line a sheet tray with foil.

Pour the sugar into a small plate and dip the tops of the grapefruit into the sugar until evenly coated.

Place the grapefruits on the tray and broil for 8 minutes or until caramelized (make sure to check them early as sugar will burn quickly). Alternatively, use a kitchen torch to caramelize the sugar, making small circular motions to evenly brown the surface.

Serve warm with a grapefruit knife or spoon.
Looking For More Fresh Fruit Recipes?
Try one of these fruit-filled and delicious options: