Our Shrimp Salsa is one of our favorite dishes to prepare because it's healthy, versatile, and so fresh!
This Shrimp Salsa is layered with flavors thanks to the cilantro, lime juice and creole seasoning. Enjoy it as an appetizer with chips or toss it over greens for a simple salad at lunch time.
What Is Shrimp Salsa?
Shrimp Salsa is a chopped and chilled seafood salsa. This tasty salsa is made by first boiling the shrimp and then cutting it into bite-sized pieces.
Shrimp Salsa vs. Shrimp Ceviche
Our Shrimp Salsa differs from Mexican shrimp ceviche which is not boiled in water, but instead the shrimp is cooked by the acidity of lime juice.
Our Shrimp Salsa is quick to prepare by preparing the cooked shrimp, dicing the vegetables, and squeezing the limes. The lime, cilantro, and jalapeno add the tasty traditional flavors.
What To Serve With Shrimp Salsa
If you're serving shrimp salsa as an appetizer for friends and family, we recommend blue corn tortilla chips for dipping. The lime and jalapeno flavor go great with the crunchy chips. This salsa is best if you make it about an hour ahead of serving to give it time to chill in the refrigerator.
If you're preparing this shrimp recipe for a high-protein meal, we love to serve it over a simple bed of greens. Try adding cubed avocado for a boost of healthy fats and a little creaminess.
Is Shrimp Salsa Healthy?
Our Shrimp Salsa is a healthy recipe to share with friends and family. Shrimp is high in protein and low in saturated fat. Thanks to the protein content this snack provides sustained energy. We recommend including seafood in your diet at least twice per week on the Mediterranean diet. And lastly, the vegetables and herbs add a little extra fiber and antioxidants, promoting good digestion. Top the salsa with a little avocado for heart healthy fats to keep you full.
What You Need To Make Shrimp Salsa
Shrimp

Creole seasoning

Cherry tomatoes

Cilantro

Red onion

Jalapeno

Garlic

Limes

Salt
How To Make Shrimp Salsa
Begin by boiling water seasoned with a little creole seasoning. Once the water is boiling, add in the shrimp and cook until they're all evenly pink. Drain the shrimp and allow to cool. Once they are cool enough to handle, cut each shrimp piece into small bites.
Prepare the vegetables by dicing, cubing, and finely chopping. Combine all the vegetables and chopped shrimp in a bowl, then add your lime juice and salt. Chill for at least one hour in the refrigerator to allow the flavors to blend together. Enjoy!

Shrimp Salsa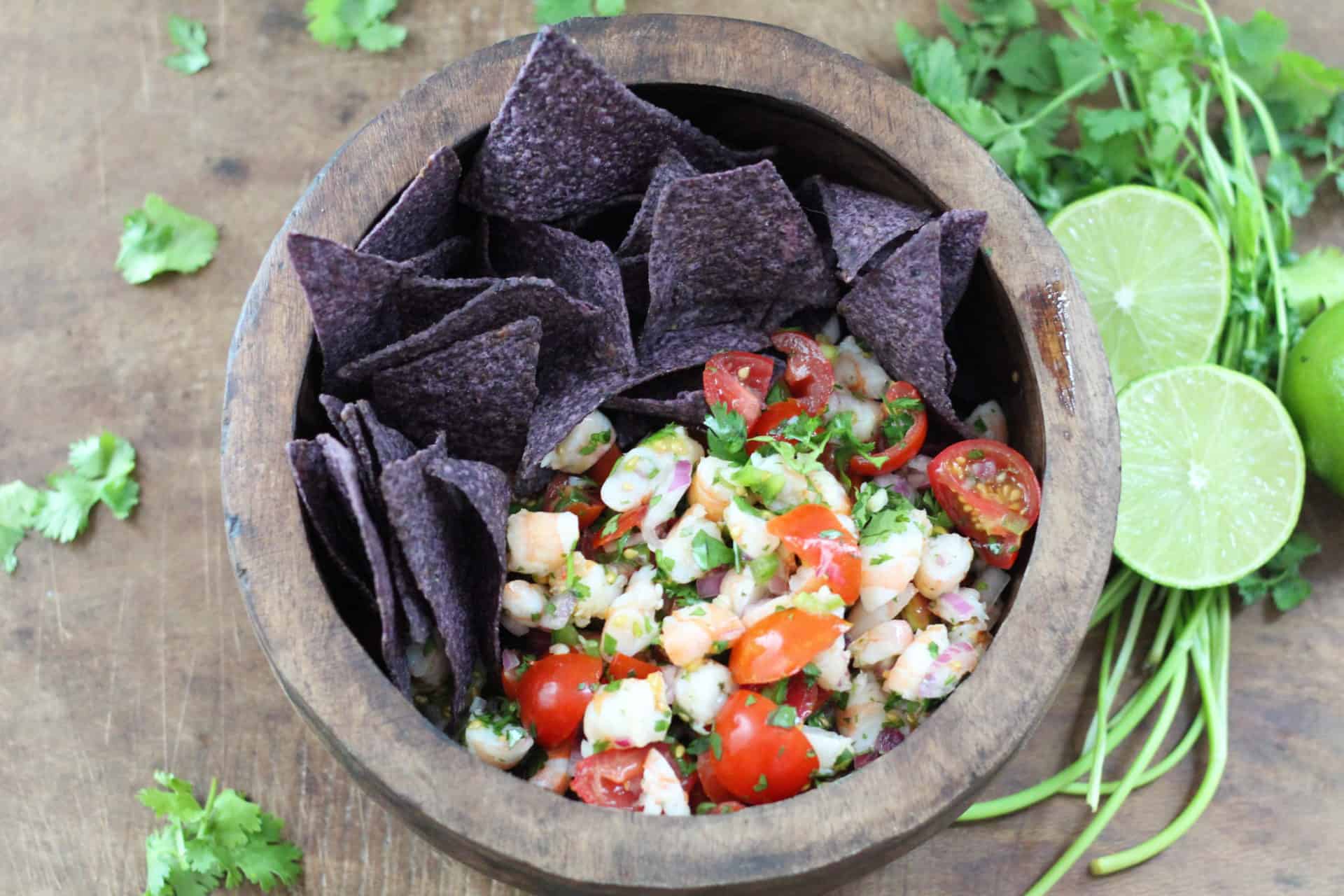 Ingredients
½

pound

shrimp

medium size

1-2

Teaspoons

Tony Chachere's seasonings

or any other creole seasoning

2

cups

cherry tomatoes

quartered

3

Tablespoons

cilantro

finely chopped

3

Tablespoons

red onion

finely chopped

1

Tablespoon

jalapeno

finely diced

1

garlic cloves

minced

2

limes

juiced

Salt

Optional: diced avocado

diced mango
Instructions
Place water and creole seasoning in a medium pot. Bring to a boil.  Add the shrimp and boil for a couple of minutes until pink.  Drain and set aside.  When cool enough to handle, peel the shrimp and cut into small pieces and place in a bowl.

Add the tomatoes, cilantro, red onion, jalapeno, garlic and lime juice to the bowl and combine. 

Add salt to taste. Adjust as needed adding more lime juice or salt. 

Place in the refrigerator for about an hour before serving. 

Serve with blue corn tortilla chips and Enjoy!
Looking For More Easy Appetizers?
Try one of these healthy and delicious appetizers or check out our 10 Mediterranean Appetizers for Parties & Seasonal Gatherings.