This spaghetti squash shrimp scampi is a delicious and satisfying, low-carb recipe for any night.
We love this recipe because you can toss the squash in the oven to bake while you prepare the rest of the sauce ingredients. The shrimp scampi sauce is made of garlic, butter, red pepper flakes, lemon and a little white wine. Tasty, light, and fresh!
Why We Love Spaghetti Squash
Spaghetti squash is a great alternative to pasta for its health benefits and taste. It's a low carbohydrate vegetable, it's gluten free, and it contains important nutrients. One cup of spaghetti squash contains only about 10 grams of carbohydrates. Spaghetti squash is also a good source of fiber, vitamin C, and B6. If you've never made spaghetti squash before, keep reading for a few quick tips!
Eating Fish On The Mediterranean Diet
As recommended by the Dietary Guidelines for Americans, we also suggest eating fish about twice a week. Fish is an important element of the Mediterranean diet and is a good source of protein, vitamins and minerals. Regular consumption of fish is associated with lower cardiovascular disease risk and healthy lipid levels. Shrimp is high in protein, contains healthy unsaturated fats, and minerals like selenium.
What You'll Need To Make Mediterranean Shrimp Scampi
Medium spaghetti squash
Unsalted butter
Olive oil
Garlic cloves
Large shrimp
Kosher salt
Red pepper flakes
Pepper
Dry white wine or chicken broth
Lemon (zest, juice, & slices)
Baby spinach
Fresh parsley leaves
Parmesan cheese
Is There An Easy Way To Cut Open A Spaghetti Squash?
Spaghetti squash can seem intimidating at first, but you'll be an expert in no time. You can cut the spaghetti squash lengthwise with a sharp kitchen knife. If the shell is thick and troublesome to cut, try this! Pierce the squash a few times with the knife to allow steam to escape, then place the squash in the microwave for about 3 minutes. This will soften it enough to cut more easily. Then return to the lengthwise cut and bake as indicated below.
How To Cook Spaghetti Squash Shrimp Scampi
Baking Spaghetti Squash
Preheat the oven to 400F and prepare your spaghetti squash. Begin by cutting the squash lengthwise and discarding the seeds. Set the squash face down in a baking dish and add in a splash of water to cover the bottom. Bake for 35-45 minutes. When the squash is done cooking it should be a little soft. Using a fork, begin to pull strands from the edges to the center, turning it to a spaghetti texture.
Preparing the Shrimp Scampi Sauce
Combine butter and oil in a pan over medium heat. Sauté garlic on its own for a minute then add shrimp, salt, red pepper flakes, and pepper. Cook for about 3 minutes until the shrimp is pink. Add white wine and lemon to the pan to boil. And finally, add in the spaghetti squash to combine with the sauce and shrimp. Top with parmesan and parsley!

Mediterranean Spaghetti Squash Shrimp Scampi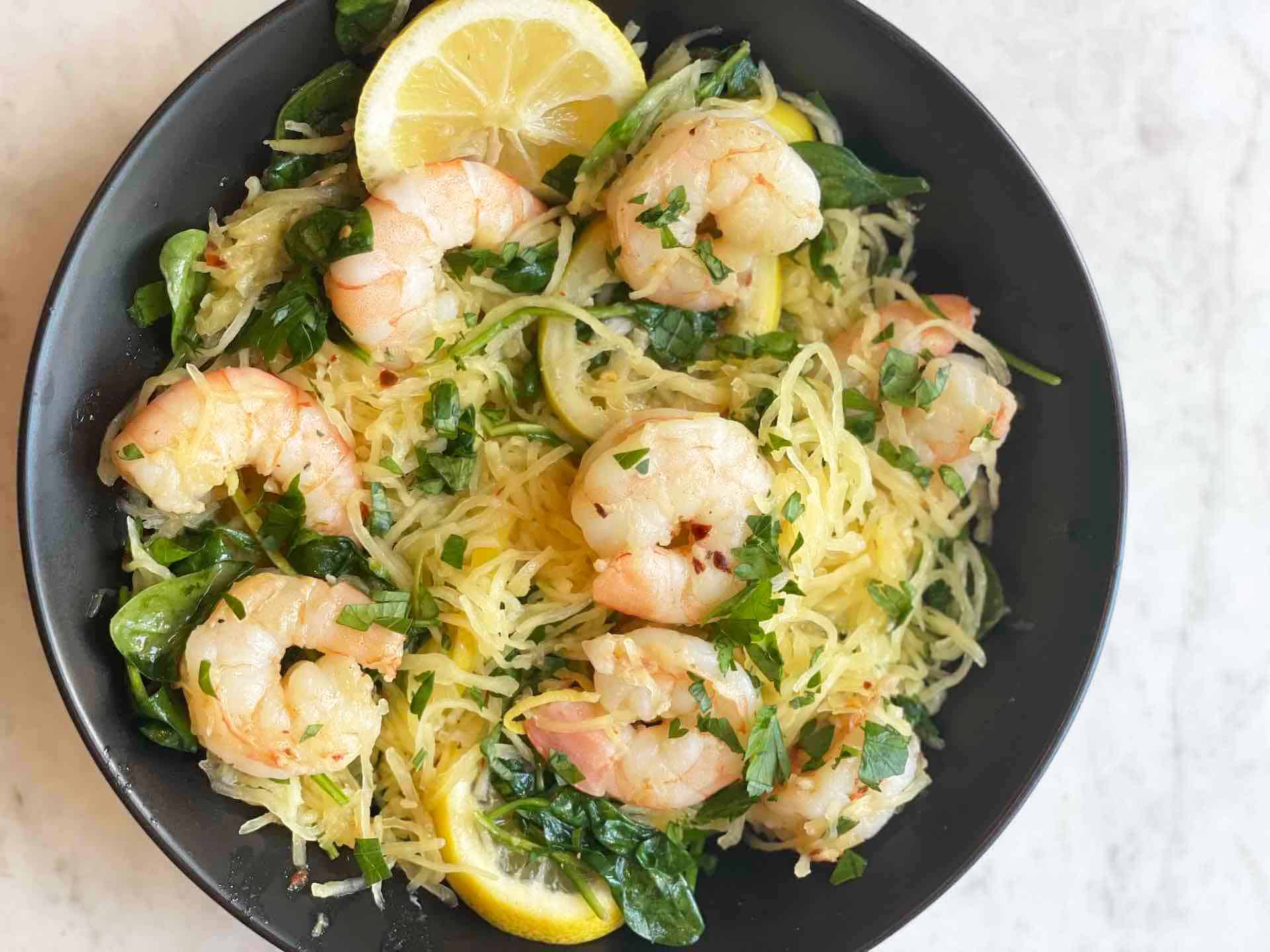 Lemon and garlic shrimp scampi served over baked spaghetti squash for a tasty low-carb dinner.
Equipment
Baking sheet

Nonstick Pan

Large Bowl
Ingredients
1

medium spaghetti squash

1

Tablespoon

unsalted butter

2

Tablespoons

olive oil

5

cloves

garlic

minced

1

pound

large shrimp

peeled and deveined

1

teaspoon

kosher salt

½ -1

teaspoon

red pepper flakes

¼

teaspoon

pepper

¼

cup

dry white wine or chicken broth

1

lemon

thinly sliced in half rounds

Grated zest of 1 lemon

Juice of 2 lemons

3

cups

baby spinach

2

tbsp

Garnish: fresh parsley leaves

chopped

Parmesan cheese
Instructions
Preheat the oven to 400°F.

Cut the squash in half lengthwise and scoop out the seeds with a spoon, discard.

Place the halves, flesh side down in a 13 X 9 pyrex dish and pour a little water around the squash to cover the bottom of the dish.

Bake for 35-45 minutes depending on the size of the squash. The squash is ready when the flesh can be easily scraped with a fork.

Scrape the inside of the squash with a fork to remove spaghetti- like strands. Place in a large bowl and set aside.

Heat the butter and olive oil in a nonstick pan over medium heat. Add garlic and saute for 1 minute. Add shrimp, salt, red pepper flakes and pepper. Continue to cook, stirring often for a couple of minutes until shrimp turn pink, around 3-4 minutes.

Add white wine, lemon zest, lemon juice and lemon slices. Bring to a boil and continue to cook for 1 minute. Add the spinach and stir. Add the spaghetti squash noodles and toss with shrimp. Cook for another minute or two until heated through.

Remove from heat, add parsley and parmesan and toss. Season with salt and pepper if desired. Enjoy!
Interested To Try More Spaghetti Squash Recipes?
Check out our favorites that are just as good as this spaghetti squash shrimp scampi: