Salmon is a mediterranean favorite. It is a great source of protein and omega-3 fatty acids, which support both brain and heart health by reducing inflammation within the body. Seafood also contains a lot of important micronutrients such as immune-boosting vitamin D.
Aim to eat two servings of seafood per week in order to get adequate omega-3 fatty acids.While omega-3 fatty acids are found in plant-based foods like chia seeds and walnuts, the form found in plants isn't easily converted to the active, beneficial form within our bodies. For this reason, focusing on fish intake each week is important for your health. If you are vegetarian, consider taking an omega-3 fatty acid supplement but always speak to your doctor first before starting a new supplement!

Baked Salmon with Balsamic Glaze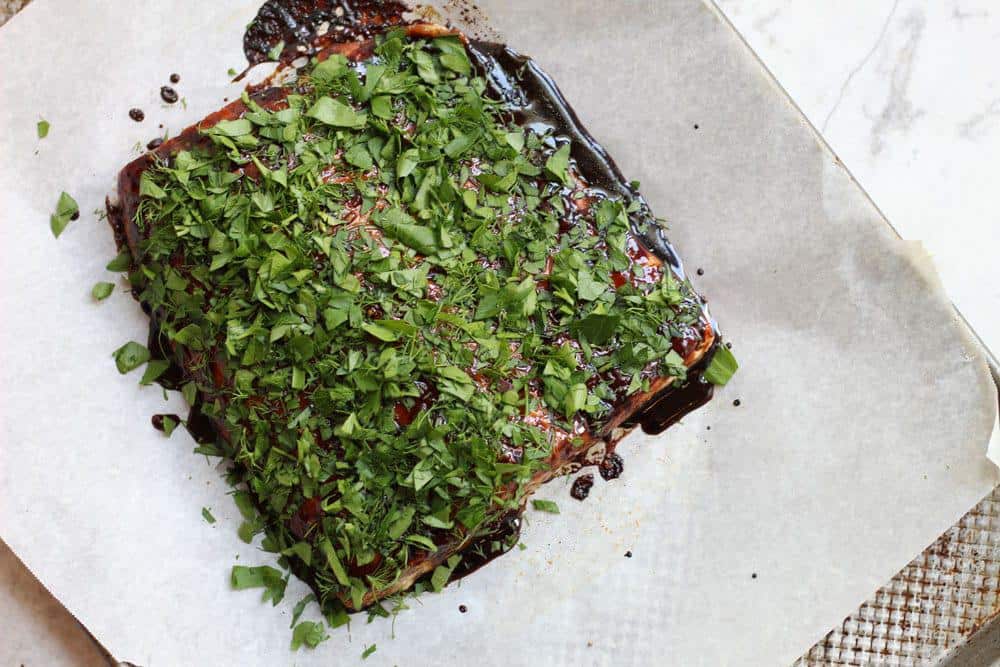 Ingredients
BALSAMIC GLAZE
1/2

cup

balsamic vinegar

2

tablespoons

honey

1

garlic clove

1/4

teaspoon

cayenne pepper

1/4

teaspoon

ancho chile powder

or ¼ tsp chili powder and pinch of red pepper

1

tablespoon

Dijon mustard

1

tablespoon

olive oil
SALMON
1 1/2

pound

salmon filet

salt and pepper

3

tablespoons

fresh flat-leaf parsley

chopped

3

tablespoons

fresh dill

chopped
Instructions
Preheat oven to 450°F. Line a large baking sheet with parchment paper.

Mix the balsamic vinegar and honey in a small saucepan. Bring to a boil over medium heat then reduce heat to simmer, stirring occasionally. Cook for 15-20 minutes or until glaze has thickened enough to coat the back of a spoon. Remove from heat. Let cool for 5 minutes.

Add remaining glaze ingredients to the balsamic mixture. Mix until well combined. Set aside about one-fourth of the glaze in a separate bowl to add after cooking.

Season salmon well with salt and pepper. Place salmon skin-side down on prepared baking sheet and generously brush the flesh side with the balsamic glaze.

Place the salmon in the oven and bake until salmon flakes nicely. Baking time will depend on the thickness of the thickest part of the filet. For every inch of thickness, bake 8 to 10 minutes.

Remove from oven and use a clean utensil to brush the glaze set aside earlier onto the cooked salmon. Top with fresh parsley and dill and serve.