● Eggs are a great source of protein. Protein is essential for health as it functions as the building blocks for bones, muscles, cartilage, skin and blood.
● Red bell pepper contributes vitamin C along with vibrant color. Vitamin C is an immune boosting vitamin helping protect the body from harmful free radicals, and promotes healthy skin
● Only 65 calories each and low in saturated fat.
● Makes 12 muffins
Print
Vegetable Frittata Muffins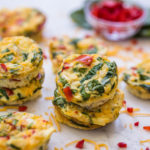 Ingredients
Olive oil spray

½

Yellow onion, diced

1

Red bell pepper, diced

2

Handfuls baby spinach, roughly chopped

¼ Tsp

Kosher salt

½ Tsp

black pepper

4

Whole eggs

4

Egg whites

½ Cup

milk

½ Cup

sharp cheddar cheese
Fresh rosemary, basil and parsley to taste
Instructions
Preheat the oven to 350°F. Coat a 12-cup muffin pan with oil spray to prevent sticking.
In a large mixing bowl, whisk together eggs, egg whites, and milk.
Add the onion, bell pepper, spinach and cheese to each of the 12 muffin cups.* Pour ¼ to ½ cup of the egg mixture over the vegetables. Bake for 22-24 minutes, checking after 15 minutes to make sure they don't burn.
Once muffins have cooled, they can be stored in an airtight container in the refrigerator for several days. Alternatively, they can be individually wrapped in plastic wrap and stored in a Ziploc bag for up to 1 month in the freezer. To reheat, microwave for up to 30 seconds or reheat in a toaster oven.
Notes
Feel free to try other combinations including: chicken sausage, spinach and feta or Canadian bacon and swiss.