Pomegranate seeds brighten up this dish and provide powerful antioxidants Walnuts add some fiber and healthy fats to this delicious dish.

Chicken Fesenjan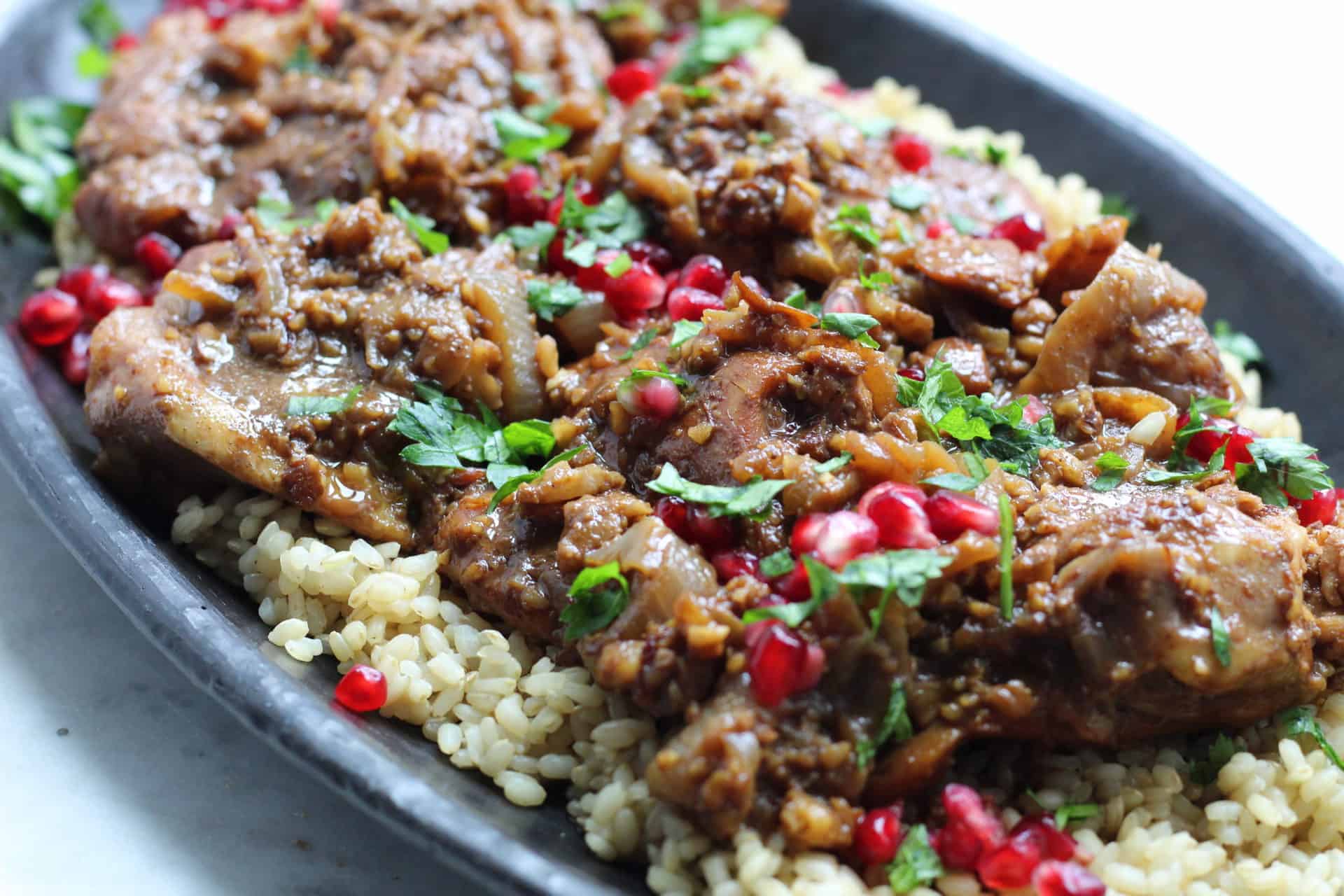 Ingredients
1 1/2

cups

walnuts

6

large skinless chicken thighs

3/4

tsp

salt

divided

1/4

tsp

ground pepper

1

Tbsp

extra-virgin olive oil

1

large onion

sliced

1/4

cup

water

1/4

tsp

ground cinnamon

1/4

tsp

saffron

1/4

tsp

ground cardamom

1

cup

low-sodium chicken broth

1/3

cup

pomegranate molasses

1

Tbsp

sugar

1

Tbsp

lemon juice

pomegranate seeds and chopped fresh parsley for garnish
Instructions
Pulse walnuts in a food processor until coarsely ground.

Sprinkle chicken with 1/2 tsp salt and pepper. Heat oil in a large pot over medium-high heat. Add the chicken and cook until browned, 4-6 minutes. Remove from pot and place on a plate.

Reduce heat to medium. Add onion and water to the pot and cook, stirring and scraping any browned bits, until the onion is lightly brown and soft, about 5 minutes. Add cinnamon, saffron and cardamom and cook, stirring, for 30 seconds. Add the walnuts, broth, pomegranate molasses and sugar. Bring to a boil.

Return the chicken to the pot and turn to coat with sauce. Reduce the heat to maintain a simmer. Partially cover and cook until internal temperature reaches 165F, 15-20 minutes. Remove the chicken and place on a clean plate.

Add lemon juice and the remaining 1/4 tsp salt to the sauce. Bring to a boil and cook, stirring often, until reduced by about one-third, 3-5 minutes. Serve the chicken with sauce and garnish with pomegranate seeds and parsley.
Notes
Recipe adapted from EatingWell