02 Jun

Lentil Salad with Balsamic Mushrooms & Cauliflower

This is a favorite fall dish that is packed with nutrients and flavor. The lentils and cauliflower in this dish provide a great source of fiber and protein while the mushrooms add a healthy dose of micronutrients and antioxidants.

Incorporating more meatless meals into your weekly rotation is a great way to optimize health. Plant-based foods contain fiber, vitamins, minerals and antioxidants, all of which work within your body to prevent chronic disease and support both physical and mental health.

A great goal is to aim for one meatless meal per week. We love the concept of 'Meatless Mondays' because it's always a good idea to start your week off right by getting in a ton of nutrients from plant-based foods.

Print
Lentil Salad with Balsamic Mushrooms & Cauliflower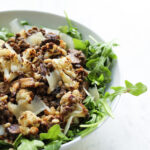 This is a favorite fall dish that is packed with nutrients and flavor. The lentils and cauliflower in this dish provide a great source of fiber and protein while the mushrooms add a healthy dose of micronutrients and antioxidants.
Incorporating more meatless meals into your weekly rotation is a great way to optimize health. Plant-based foods contain fiber, vitamins, minerals and antioxidants, all of which work within your body to prevent chronic disease and support both physical and mental health.
A great goal is to aim for one meatless meal per week. We love the concept of 'Meatless Mondays' because it's always a good idea to start your week off right by getting in a ton of nutrients from plant-based foods.
Nutritional Highlights
The lentils and cauliflower in this dish provide a great source of fiber and protein.

Mushrooms take on the flavor of any dish while adding micronutrients and antioxidants.
Author:
Yield:

4

servings

1

x
Category:

Salads

Cuisine:

Mediterranean
Ingredients
1/2

large head cauliflower, cut into florets

salt and pepper to taste

2 tablespoons

olive oil, divided

1

pound mushrooms, assorted varieties, cut to a similar size as the cauliflower

1

package Trader Joe's pre-cooked lentils

4 cups

arugula

1/4 cup

toasted pine nuts, for garnish

chopped fresh parsley, for garnish

1/4 cup

shaved parmesan, for garnish
Balsamic Dressing:
3 tablespoons

extra virgin olive oil

2 tablespoons

balsamic vinegar

1 teaspoon

Dijon mustard
Instructions
Preheat oven to 400F and line a large baking sheet with parchment paper.

In a large mixing bowl, toss cauliflower florets with 1 tablespoon olive oil. Sprinkle with salt and pepper. Transfer to a prepared baking sheet and roast for 20 minutes, stirring halfway through.

In the same mixing bowl, toss mushrooms with remaining 1 tablespoon olive oil, add to cauliflower on the sheet pan, and stir. Continue roasting 10 more minutes, or until tender.

Add the dressing ingredients to a small bowl and whisk to combine. 

Warm the cooked lentils in the microwave according to package instructions. Mix with the roasted mushrooms and cauliflower. Toss with balsamic dressing.

To serve, place arugula in serving dish, top with warm lentils and roasted vegetables. Garnish with pine nuts, parsley, and parmesan. Enjoy!
Keywords: Fully Mediterranean, Mediterranean diet, salad recipes, balsamic dressing recipes